TikTok is still on the rise, years after it exploded in popularity during the pandemic in 2020. Now, it's so much more than just a buzzy, Gen-Z-centric social app.
We've waxed poetic about the importance of TikTok marketing for brands, but once you know your business needs to be on the app, where do you go from there? How do you develop a TikTok strategy, use it to further your overall marketing efforts, and create engaging short-form content?
We've compiled insights from our TikTok marketing experts and years of experience in video content creation for brands!
What Is TikTok?
Before you build your TikTok strategy, you should understand what TikTok is. Most brands know vaguely what TikTok is, but it's becoming so much more than just an app where people post dance videos.
In short, TikTok is a video-based social app that has quickly evolved into a platform for all ages, from Gen Z to Boomers. Like Instagram, you can partner with influencers, invest in advertising, and boost posts for added reach. (And there's recent rumors that TikTok will soon make the leap into e-Commerce.)
Benefits of Using TikTok
There are many benefits to using TikTok to grow your brand — if you have the time to invest in the right strategy. With minimal budget, you can see big results.
Experience Quick Growth
Many brands and content creators on TikTok have experienced explosive growth on the platform. If you create engaging content that aligns with viewers and provides them value or entertainment, you can quickly gain a high number of followers.
It's important to note that follower count isn't everything, and a high TikTok follower count won't necessarily translate to other social platforms, like Instagram or YouTube, or direct sales.
Experimenting with New Strategies
If there's ever been a place to have some fun on social media — it's on TikTok! No need to adhere to rigid ideas or content calendars. Follow current trends, adapt them for your brand, and just have fun! Because TikTok followers don't directly correspond to sales (like many other social platforms), you have the freedom to experiment with new strategies without being bound by sales quotas.
Duolingo, the popular app for learning a new language, has been praised for their creativity on the platform. They created short-form videos that were not informative or academic, like you might expect for an educational app. Rather, they comment on a shared experience (like when the teacher makes you talk in Spanish class) or humorous office situations with their mascot, Duo. These videos didn't directly promote their services, but it garnered them millions of views, creating brand awareness
Low Budget Investment
You don't need fancy cameras, little microphones, or a green screen to create engaging TikTok content. All you need is your phone! Part of the appeal of TikTok content is that it's less polished than YouTube or Instagram. Content doesn't need to be perfect to be successful.
Additionally, advertising budgets on TikTok are markedly lower than Instagram. We've seen shockingly low cost-per-follower rates on the platform, making the barrier to entry low.
Creating a TikTok Strategy
For all our talk about the creativity on TikTok, it's still critically important to create a TikTok marketing strategy. While you need to remain flexible in order to quickly hop on trends, you still need a solid strategy in order to see consistent success on the platform.
Here is the framework for how we create a TikTok strategy for our clients:
Identify Metrics and Goals
As with any other social efforts, you need to first identify your primary goals for the platform. Not only does this inform how you understand the success of your campaigns, but it also impacts the kind of content you create.
For example, if your primary goal is to drive sales, you'll likely post about your product's features and benefits or before-and-after photos. If your primary goal is to educate within your industry, you might primarily post tutorials.
For TikTok, we recommend focusing on one or multiple of these metrics:
Views
Followers
Engagement rate
Identify Voice
Once you've identified the goals and metrics you'll be tracking to reach your goals, you can identify the voice you want to have on the platform.
There's often a perception that to be on TikTok you have to be funny to be successful. Many brands choose to embody that voice (like the aforementioned Duolingo), but that doesn't alway have to be the case! Many accounts are educational, creative, or even serious. Most importantly, you have to be authentic.
Create Short-Form Content
Once you've identified your metrics and voice for TikTok, you can start creating content! As we've mentioned before, you don't need any special technology — all you need is an idea!
Create for Your Goals
Of course, all posts should help you reach your goals and embody your brand's voice, but this is a great place to start if you're struggling to come up with ideas for content. You might post tutorials, informational content about your product's ingredients, inspiration for how to use your product, or a tongue-in-cheek clip about your brand.
We helped gifting brand, Thoughtfully, create engaging content for their TikTok account, increasing their follower count by 19K. They were also able to reuse this content across Amazon and Instagram.
Follow Trends
One of TikTok's main characteristics is the presence of trends using a particular audio clip. This started with dance trends, where one user would choreograph a dance to a section of a song, and others would follow suit.
Now, the idea has expanded to be more meme-like, with users adapting formats to make a joke or share a story. Your brand can capitalize on the trend by hopping on the bandwagon. Not only does this ensure your content is relevant (because trends come and go extremely quickly on the platform), but it also builds off the existing hype for the trend.
Start a Trend
On the flip side, you could start your own trend rather than following an existing one. This tactic requires more thought, budget, and time investment, but it can be worth it if done right.
We helped beauty brand Banila Co. create their own trend by partnering with influencers on the platform. We chose a specific song, created a hashtag, and gave the content creators specific guidelines to follow. We eventually saw other non-paid creators taking part in the challenge/trend!
Work with Content Creators
Working with content creators (or influencers) on TikTok can provide you a high return on investment. If you're struggling to gain views or traction on the platform, this can help expand your audience to a different group of people.
And you don't need to work with large — and therefore expensive — creators! Working with micro-influencers on the platform allows your budget to be stretched across multiple accounts, giving you more reach.
For beauty brand Avatara, we sourced user-generated content (UGC), to engage their target audience on the platform. By boosting those posts, we were able to increase their follower count by 800% and reach 1 million views in just 6 months.
Omni-Channel TikTok Marketing
We'd be remiss if we didn't talk about how to integrate your TikTok strategy into your larger omni-channel marketing efforts. Using this platform to help you reach your overarching brand goals at various stages of the customer journey is critical to success.
At Blue Wheel, we created the Performance Commerce Effect to visualize the data-driven approach we take with our clients. At each stage of the process, we focus on a different data point in order to see success overall. TikTok falls into the first stage — awareness — as we look at CPM and Scroll Sop CVR to determine success.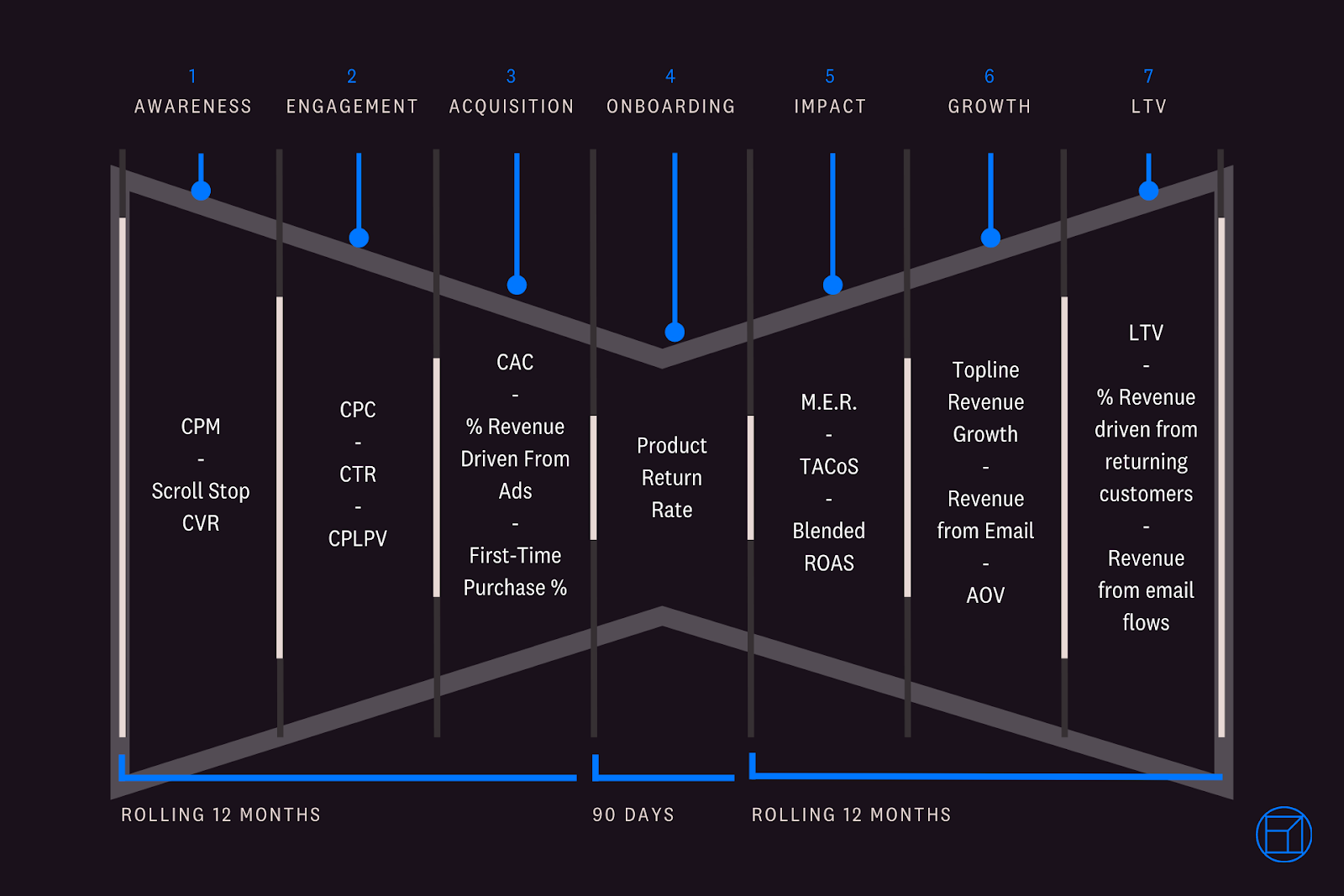 ‍
We rarely expect TikTok to deliver direct sales results, but by looking at these two specific data points, we can determine the success of our organic and paid TikTok efforts.
Promote Off Amazon
Sharing Amazon hauls and storefronts are commonplace on TikTok, so sharing your Amazon products would not be out of place. Whether you work with influencers or organically post a video, you can promote your Amazon products to your followers.
Prime Day has really taken off on TikTok, with creators and brands sharing their favorite products and deals. Utilize this hype to add another aspect to your promotional efforts.
Differentiate from Instagram
Many brands choose to reuse content from TikTok on Instagram, reposting their videos to Reels. If your social team's bandwidth is low, this could be a great option to easily build out content on an additional social platform. We recommend not sharing them to your feed and only sharing them to Reels, so you can maintain your profile's integrity and goals, while still building views and exposure through short-form video.
‍
If you're looking for an agency partner to manage your TikTok strategy, reach out to Blue Wheel today.
‍
‍