Prime Day 2023 Exceeded Expectations
Even through growing fears of a recession, upward trends in inflation, and continuing increases in cost of living, Amazon's Prime Day has yet again exceeded expectations, Amazon revealing that "the first day of Prime Day, July 11, was the single largest sales day in company history", with overall revenue reaching nearly $13 billion.
Having Amazon seller roots ourselves, we understand the preparations necessary to ensure a successful and meaningful Prime Day. In this article, we'll walk through some key insights, unpack some of the strategies we took that resulted in success, and run through how to apply these strategies to other shopping events, such as Amazon's Prime Fall Deal Event and Cyber Week.
What is Amazon Prime Day?
Amazon Prime Day began in July 2015 as a one-day opportunity for brands to offer deep discounts to customers on their products. Since then, it has grown tremendously into the two-day phenomenon we see today.
Due to its popularity and continued success, Amazon has also added other events such as their Prime Early Access Sale (PEAS) that runs in the fall, just before the holiday season hits - allowing consumers to get a head-start on their holiday shopping. Amazon has confirmed that there will be a Prime Fall Deal Event in Q4 but has not yet announced the dates of that shopping event.  
Beauty Wins as Top Category
Beauty won top spot across all categories, with an incredible 28% year-over-year increase in product views. Our teams saw the same in the category, with an average growth of 335% for our beauty brand portfolio. Among our portfolio, here are a few highlights from top brands:
·        Skincare brand saw a 1389% increase in topline growth
·        Beauty brand saw a 156% increase in YoY total sales
·        Hair care brand saw 123% increase in units sold YoY
‍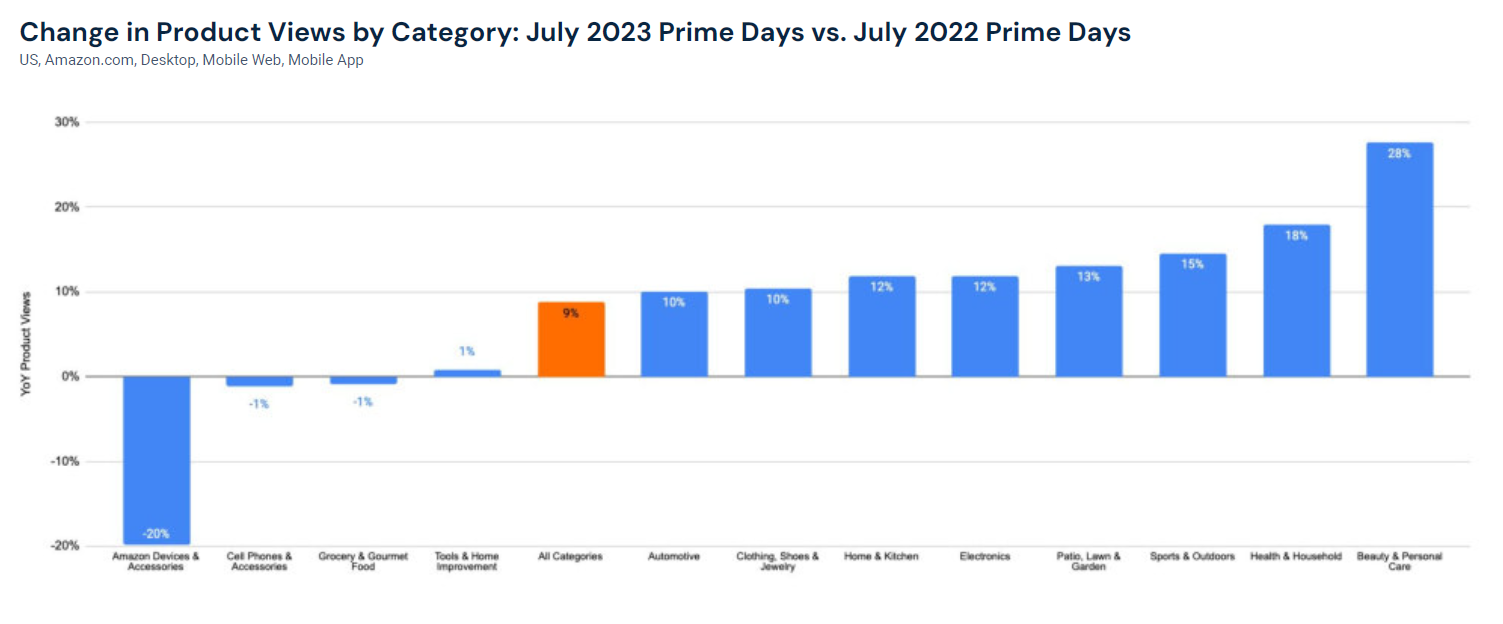 ‍
Prime Day 2023 Brand Strategy Wins
Our teams went into this Prime Day with significant brand goals and we found many of our strategies lead to success and incredible results, with one brand seeing 2,349% increase in ad sales!
Preparing Your Prime Day Budgets in Advance
Preparedness is key. We started ramping up our budgets even earlier this year, assuming we knew Prime Day would be happening early-to-mid July.
We began by pushing the categories we knew were going to be key areas for us during Prime Day and started securing as much profitable top-of-search (TOP) placements as we could before the event. This allowed us to understand which keywords and targets would be the most aggressive and start building out our audiences for retargeting during Prime Day. 
Our teams also ensured we reserved enough budget to keep high-priority campaigns live all day during the event. This turned out to be beneficial, as our partners at SimilarWeb reported that shoppers this year either shopped early to take advantage of invite-only deals or they opted to wait until the final hours of the sale. One of our brands saw the largest surge in orders at 10pm EST.
‍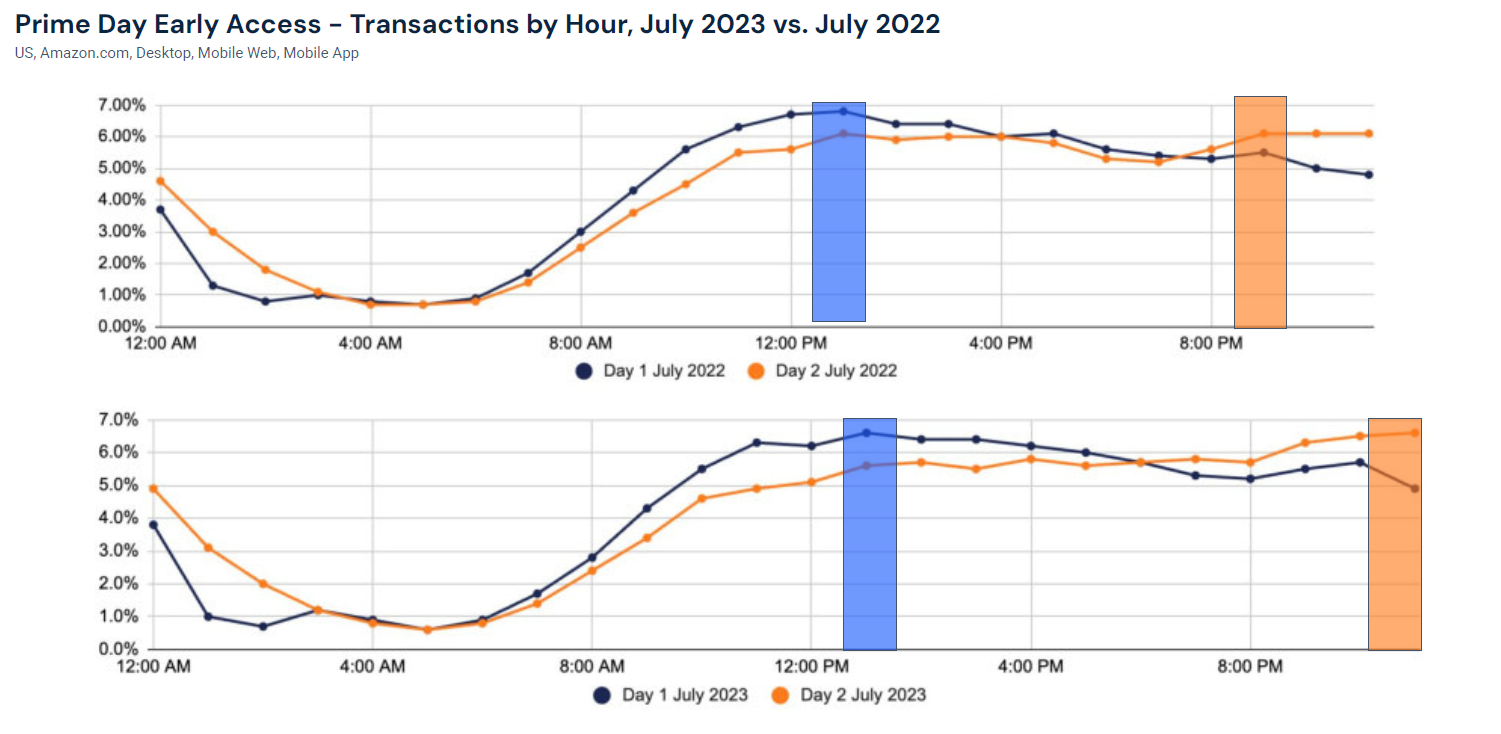 Focusing on Specific Products to Run Deals
Solidifying an approach around what products to push during Prime Day is another key component to ensuring success. One of our brands focused on specific items that make great brand entry products to acquire new customers. To push these deals, the team put a significant amount of the overall investment into keeping visibility on generic, category and conquesting categories, which resulted in 157% increase in ad sales versus last Prime Day.
Additionally, using Prime Day to promote new products can be ideal in hopes of building customer loyalty and driving more sales in the future as well as an increased product reviews.
Prime Day is also a great chance to push visibility on non-deal ASINs, so focusing on lower price-point products in non-branded campaigns is ideal.
Utilizing an Amazon DSP Ads Approach
Amazon DSP (demand-side platform) is an automation software that allows for purchasing advertising – the caveat here is that brands must go through Amazon's managed services or an Amazon advertising agency - we know of a really great one if you're in the market (wink*)!
Leading up to Prime Day for one of our brands, we focused on increasing bids by 20% for in-market Amazon DSP targeting. By focusing on this awareness-based initiative, we were able to get customers into the funnel. Then, during Prime Day, we applied the same in-market Amazon DSP targeting at the same bids and budget to continue to get shoppers into the funnel with the increased traffic, but also doubled our DSP retargeting which drove much stronger sales and efficiency during Prime Day. 
Leveraging Influencer Marketing & Amazon Live
Leading up to Prime Day, we focused on driving awareness both on and off Amazon, leveraging influencer marketing and programs like Amazon live and Buy With Prime. Working with a handful of influencers who have a prominent following allowed customers to prepare for Prime Day, then purchase during the event when the products were discounted.
One of our brands launched an Instagram story on their brand account in addition to influencer accounts which allowed for additional awareness, seeing 1433% increase in units sold compared to last year's Prime Day.
Applying Prime Day Strategies to Other Amazon Events 
Our teams may be wrapping up Prime Day, but we're already planning, prepping, and applying some of our winning strategies to the next big Amazon events such as the Prime Fall Deal Event and Cyber Week.
Looking for an Amazon advertising agency to revamp your strategy ahead of the upcoming Amazon deal days? Reach out to Blue Wheel to learn more about our Amazon advertising services.