Amazon once again rocked the ecommerce industry with their newest release, Buy with Prime. This new feature allows sellers to include a Buy with Prime button on their DTC site, so customers can checkout through your DTC site using their Amazon account information—then Amazon ships your product from their warehouse!
You may be asking yourself, "Why would Amazon want to help you convert Prime members on your own site? Why wouldn't they want to stick to their own site?"
The ecommerce industry continues to grow and is here to stay. Amazon realizes its usefulness in helping merchants find more of their own customers, so they've made it easy to add Prime to your existing site. In doing so, they're helping to grow the ecommerce industry and your business, while maintaining their commitment to being the most customer-obsessed company on earth.
Let's dive into how your business can improve your fulfillment capabilities and customer experience with Buy with Prime.
What is Buy with Prime?
Buy with Prime is a new feature from Amazon that allows you to place a Buy with Prime button on your DTC site. This allows customers on your owned site to check out via their Amazon Prime account, so they can use their Amazon shipping and payment information, while you (the brand) get to own their information. Amazon ships out the products as if the customer had ordered directly from Amazon.com.
Here's a summary of some Buy with Prime benefits:
Convert Prime members. Display the trust of Prime to indicate that you offer a familiar shopping experience.
Offer Prime members an easy checkout. Provide a secure, easy payment experience by letting shoppers check out using their Amazon account.
Delight Prime members with fast, free delivery. Offer fast, free delivery to incentivize Prime members at checkout.
Give Prime members post-purchase peace of mind. Deliver on a promise millions of Prime members trust—transparent delivery estimates and free returns.
Display the Prime branding to make every touchpoint smoother, helping increase Prime members' confidence and turn Prime members into your customers.
Seller Experience
On the seller side, there are many benefits to Buy with Prime.
You get to offer a familiar shopping experience that millions trust right on your site. Plus, by accessing Prime member information, like email addresses, you'll establish and create meaningful relationships with Prime members who purchase on your site.
In addition,, since you have access to their customer data, you can nurture relationships with them in a way that you can't if they had purchased directly on Amazon. You'll receive shopper order information, including email addresses, which you can then use to build customer relationships and provide merchant support.​
With Prime's fast, free delivery you'll increase your conversions and convert more shoppers. You'll attract engaged Amazon shoppers with the trust of Prime through relevant ad campaigns and the Buy with Prime badge in your marketing—which will boost traffic to your site!
Customer Experience
On the customer side, Buy with Prime makes their experience seamless. Buy with Prime gives customers what they want in an online purchase:
An easy checkout experience with the benefit of fast, free delivery
The confidence that their payment is securely processed, and an understanding of when their products will arrive
Access to shopping benefits they already have confidence in, with an easy return process
55% of shoppers say free shipping is the most important factor when making an online purchase (Comscore, "2020 State of Retail", Comscore, October 19, 2020). By offering free shipping through Prime, you could increase shopper conversion by an average of 25% with 1–2 day shipping and transparent delivery times. (This data point measures the average increase in shoppers who placed an order when Buy with Prime was an available purchase option versus when it was not, during the same time period.)
When a customer visits your site's product page, it will appear exactly as it usually would—except in addition to your existing checkout options, they will also see a Buy with Prime button, along with Prime's delivery promise. This signifies to Prime members that they can order products in an easy, familiar way they trust.
Customers can still check out via your traditional route (Shopify, etc.), but if they were to click on the Buy with Prime check out option instead of the others, here's their buying path:
Shoppers log into their Amazon account.  
The checkout menu automatically fills in the shopper's preferred payment and shipping details from their Amazon account, reducing cart abandonment.
Shopper selects "place order."
The shopper is sent to an order confirmation page, with the option to continue shopping.
This entire process is 3 steps, which is 49% faster than the average check out process. With Buy with Prime, the buyer is already authenticated and will already have their information stored for shipping and billing because they are Prime customers. It's great for net new customers and easy for you as the merchant!
How to Launch Buy with Prime
Now that we have some background on the program itself, we can begin talking about implementing it! Buy with Prime has 5 steps to launch, and the pricing model is fairly straightforward.
Sign up for Buy with Prime
Enter your business name, address, and phone number to get started.
Set up Buy with Prime
Link your Seller Central or Amazon Supply Chain account and Amazon Pay account, import your existing Amazon product catalog information, and authorize Amazon to fulfill your Buy with Prime orders.
Pick which products offer Buy with Prime
Confirm that your Buy with Prime product SKUs, titles, and prices match your site, and then choose which products will offer Buy with Prime.
Create and install the Buy with Prime button code
Confirm your ecommerce provider, and then create and install the Buy with Prime button code one time on your site.
Optimize your website and Buy with Prime shopping experience
Go to your dashboard to track orders, manage your product catalog, check analytics, and more.
Buy with Prime Tips
Add Buy with Prime to more SKUs
Variety is key to shopper satisfaction. Open up a wider selection of your catalog to Prime members by adding more SKUs, variations, and top-performing products to your Buy with Prime catalog.
Create a Buy with Prime Collection Page
Showcase your Buy with Prime products on one page to make it easy for shoppers to find eligible products and encourage Prime members to discover other products on your ecommerce site.
Prioritize Education
Help shoppers learn about Buy with Prime through messaging and education resources, such as the Buy with Prime shoppers FAQ, which is available to merchants registered with Buy with Prime.
Use the Buy with Prime Badge to Build Trust
Drive shopper interest in your products with the trust of Prime, using the provided marketing toolkit to feature the Buy with Prime badge across your marketing channels. The Buy with Prime marketing toolkit is available to all merchants registered with Buy with Prime.
Drive Traffic to Your Site
Accelerate your growth using marketing solutions designed to help Buy with Prime merchants reach engaged Amazon shoppers and lead them to the Buy with Prime products on your site. Learn more by visiting the Buy with Prime website.
Buy with Prime Pricing Breakdown
You only pay for what you use, and you'll be able to see a breakdown of your fees in Seller Central. While we have custom rates for these existing fees, the only additional, or new fee, is the Prime service fee. These are the only fees; you do not pay theAmazon Seller Central referral fees.
Prime Service
Offer the trust of Prime with the Buy with Prime marketing toolkit and increase purchase confidence with Reviews from Amazon.​
​3% of order value, $1.50 per order minimum
Fulfillment Fee
Provide 1–2 day shipping at comparable rates to 3–5 day standard ground rates, and have Amazon handle the fulfillment of your Buy with Prime orders.​
​Starting at $5.38 per unit fulfilled and $0.83 per cubic foot stored per month​
Amazon Pay
Offer a fast, secure checkout experience that millions of shoppers trust.​​
2.4% of order value and $0.30 per transaction applies until 04/30/2023 (compared to a standard 2.9% and $0.30 transaction rate).
Buy with Prime Benefits
Hopefully, at this point that you're at least intrigued about implementing Buy with Prime on your site from a birds-eye view. Here are some additional details around other benefits and considerations as you're testing the program for yourself.
Sellers Currently Using FBA
If you have a seller account, setting up Buy with Prime is about as easy as it's going to get! Once you have it installed on your website, you already have the inventory in the right place to start using that same inventory to ship orders on your D2C site. This program works almost identically to MCF or merchant fulfilled network. So, when orders are placed, they will be picked from the same FBA inventory location and sent directly to the customer.
Inventory Management
With Buy with Prime, you don't need to worry about managing multiple inventory locations. If you have issues right now with using FBA for Seller Central and then managing a different inventory location — whether it be 3PL or your own warehouse — for your website, you or your inventory team can now monitor one location rather than multiple. (Keep in mind, you're going to have to increase your days on hand to keep up with the volume on both sites.)  
Pilot Program for D2C Site
We've seen brands use Buy with Prime as a testing pilot program for the beginning or resurgence of their D2C site. Let's say right now you have a website but it almost stands as a landing or browsing page versus an actual shopping page. For whatever reason, you've always focused on Amazon and thought of your site as an afterthought. Buy with Prime allows those merchants to test and lean into the site without disrupting your business operationally.
This works well for the brands Blue Wheel partners with that are really good at B2B orders and really good at shipping into Amazon with pallets or bulk orders, but not always good at shipping B2C, which has limited their B2C website from scaling.
Now, if you were to invest into the website related to marketing efforts or revamp those email marketing campaigns, you wouldn't have to worry about the increase in orders upsetting your internal fulfillment. And, on top of that, you're likely to see a bump in conversions compared to your prior shipping, because those customers are there to purchase and can easily do that with fast free shipping from Prime!
Launching New Products
Lastly, for those of you that can ship well for your D2C and have significant volume but struggle getting customers to get outside of your best sellers, using Buy with Prime for new product launches can be a really effective tool. In combination with your email releases, SMS, and paid advertising efforts, that "try now with Prime 2-day shipping" entices customers to purchase, have an ultra easy return process, and potentially target viewers that may have gone to the site previously but never pulled the trigger.
Improve Fulfillment Capabilities
Buy with Prime can improve your IPI. Using this program will give you another sales channel to sell through inventory.
So let's say you have limited space, aged inventory, or are bumping up to LTSF. By using Buy with Prime, you can speed up that sell-through, increasing your IPI giving you more space to ship in more product down the road. So, the sell-through on your website when using Buy with Prime improves your IPI score and, therefore, improves your FBA inventory position.
In addition to that, for those merchants back in Q4 that launched Buy with Prime around the same time as the crushed FBA limits in October, we were able to work with the reps to get significant warehouse space to accommodate for the increase in website orders.
You'll also be able to consolidate reporting and logistics into one place. So, if you'd like, you'll be able to sync the orders, traffic, conversion back into your site, or you're able to look at both FBA and D2C orders in one place.
Sync Reviews with Buy with Prime
One of the biggest updates is that Amazon now allows you to sync your Amazon reviews to your D2C site. As we all know, Amazon reviews are key to growing your business, but they have historically never been available outside of Amazon.com. This update gives customers additional peace of mind when making a purchase.
40% of shoppers say that ratings and reviews are a key reason they shop on Amazon. And now those same converting reviews are available on your own site for your products!
Buy with Prime Concerns
We'd be remiss if we didn't address some of the concerns with Buy with Prime that have been brought up by sellers, customers, and agencies alike.
Non-Branded Experience
One of the concerns brought up by some who have ordered off D2C sites via Buy with Prime is that they don't get the same branded experience as if they had purchased directly from the site. The products are shipped in Amazon packing and boxes instead of the branded ones.
For some people, this might be a drawback—especially if you as a brand have crafted a superior branded experience through your packaging! If this is integral to your experience on your D2C site, then perhaps Buy with Prime isn't the best option for you.
However, most customers know that when they purchase from Amazon—whether on Amazon.com or your site through Buy with Prime—that they will get the Amazon experience. If that doesn't disrupt your branded experience, or you are okay with providing a different experience with different benefits (faster shipping, easier returns, etc) then Buy with Prime might be a great choice.
Disjointed Communication
Some shoppers have noted that post-purchase communication has been lacking in the Buy with Prime process. Some brands do not have their post-purchase drip workflows set up for the Buy with Prime process, despite having access to customers' email addresses. Brands need to ensure they have the same email cadence set up for Buy with Prime as they do for their D2C site to ensure a smooth customer experience post-purchase—including confirmation email, thank-you email, and shipping confirmation email.
Additionally, some had a tough time finding their order confirmation within their Amazon account, since they often didn't get a confirmation email from the brand itself. Buy with Prime orders can be found under Amazon Pay, which is admittedly a poor user experience. However, brands sending out confirmation emails and keeping track of orders could help mitigate this issue.
Poor Return Process
Perhaps one of the biggest issues customers have faced is the return process. Buy with Prime promises fast, easy returns just like you would usually have through Amazon—but that hasn't always been the case. Some customers have found that neither the brand nor Amazon know how to handle returns, struggling to find the order within their systems.
As a brand, you need to ensure you have the proper CMS setup in order to best help your customers. Modify your existing returns process to fit the Buy with Prime structure in order to provide an excellent experience for your customers.
And, of course, Amazon should also ensure they're able to handle these slightly different returns. We hope this process smooths out over time.
Buy with Prime Back-End Considerations
When we work with brands to evaluate their potential Buy with Prime opportunity, we look at these three items:
Perform a pricing analysis
Review implementation process
Analyze results
Let's dive into each of these considerations individually.
Pricing Example
Here is an example of the pricing for three different products being sold through BwP
For example, let's look at three different products that have three different dimensions:
Small — jars of beauty products  
Medium — protein powder  
Large — kettlebell 
For each of these products, we have to factor in the varying charges for:
Prime service
Fulfillment
Payment processing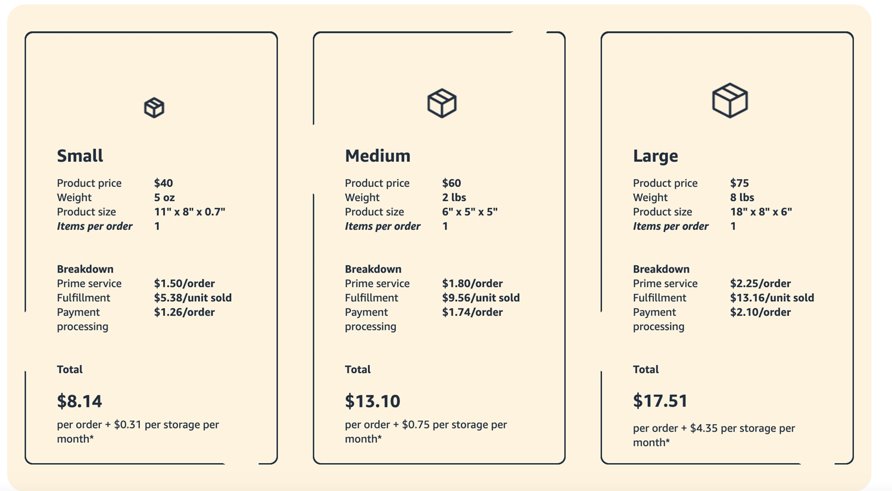 When we work with merchants during this pricing evaluation process, we typically pull in their current D2C logistic expenses in one column, Seller Central FBA in another, MCF (if applicable) in another, and then Buy with Prime in the final column. This allows us to fully evaluate the logistical costs for each channel and back into volume targets based on margins. The brand will then talk through how to consider the pricing and compare it apples to apples with other options.  
Operational Implementation
You need three experts in order to best utilize Buy with Prime:
Developer: You need someone to be able to edit code on your site to implement Buy with Prime.
Advertiser: To unlock some of the Buy with Prime ad products, you'll need an advertiser to manage the campaigns. These campaigns sit within DSP. They are called Amazon Display ads, and they are specific campaigns for Buy with Prime.
Merchandiser: Someone needs to own the catalog for Buy with Prime. (We spoke about best practices, meaning the more the better when enrolled, however, that doesn't always work operational for you as the merchant.)
One common question we get is related to timing and how fast merchants can go live with Buy with Prime. The technical answer is within hours, but the more practical answer is a couple of weeks, in order to give brands time to organize the right stakeholders and educate a development team who can edit the site.
The evaluation process to find out if Buy with Prime is a good fit for your brand takes approximately 2 weeks for the Blue Wheel team. This evaluation involves the pricing analysis, speaking to the Buy with Prime team, aligning on the development project, and determining best fit products.
The actual install of Buy with Prime on your site should take less than a day. The process is fairly straightforward, as long as you're familiar with Amazon and your D2C site's back end.
To send in products, it's a very similar process to FBA, in that you create shipments, packaging/labeling, schedule pickups, delivered and received at Amazon. Additionally, Buy with Prime holiday times and promotions have similar schedules to FBA.
Analyzing Results
Analyzing the results of Buy with Prime is an incredibly important part of the process, as with any sales or marketing effort. Amazon estimates that you can increase shopper conversion by an average of 25% on your site with Buy with Prime.
If you use BigCommerce, your Buy with Prime orders will feed into your backend reporting. If you use another site, you can use the app Alloy to pull over order details and put them into your ecommerce provider. (Ensuring this process is set up will help mitigate some of those concerns above!)
Of course, there are additional metrics to analyze outside of Merchant Console​, such as:
Conversion​
AOV​
Repeat shopper ​
LTV ​
Advertising efficiency ​
Review ratings​
Next Steps
If you're interested in implementing Buy with Prime, there are a few ways you can learn more:
Visit the Buy with Prime website.
This will be the standard website, similar to Amazon's other self-service platforms.  
Connect with a buy with Prime contact.
Keep in mind that similar to their other teams, the Amazon team will not do the work for you. It's up to you as a merchant to get the button installed on your site. 
Connect with the team at Blue Wheel who can provide more hands-on support and take you through the application process from start to finish!