Social media giant, TikTok, has announced the official launch of its US ecommerce platform, TikTok Shop, now appearing in users' For You feeds. With over 150 million users, brands, merchants, and creators now have the ability to sell their products directly from TikTok videos and livestreams.
How TikTok is Transforming Commerce
In a recent study, it was found that 75% of US marketers plan to increase their spend on TikTok over the next 12 months – and for good reason with the recent launch of TikTok Shop. As a one-stop eCommerce solution, it allows users to discover products, checkout, and make a purchase all within the TikTok App making the customer experience nearly seamless.
Features for Brands on TikTok Shop
Along with a relatively seamless customer experience, TikTok Shop has added several new features in addition to its in-feed videos and live shopping streams.
A Product Showcase allows users to browse product tiles, read reviews, and make purchases directly from a brand's profile page and brands can curate their products into collections directly on their profiles.
The Shop Tab is a dedicated shopping option where customers can easily search and discover products with current and ongoing promotions.
An Affiliate Program where creators can connect with sellers to earn commission from product marketing opportunities.
Their TikTok Shop Ads present additional paid opportunities for sellers to promote their shops.‍
Fulfilled by TikTok is their logistics program that takes the headache out of selling for merchants, allowing TikTok Shop (owned by ByteDance) to manage product storage, packaging, shipment, and more.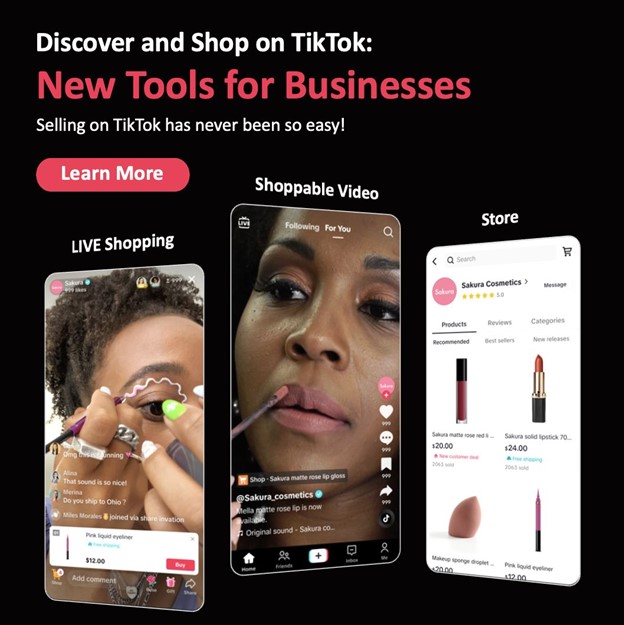 Benefits of TikTok Shop for Brands
There's no doubt that TikTok should be part of your omni-channel strategy, with 74% of Gen Z uses TikTok to search.
Discover New, Highly Engaged Audiences
No matter your demographic, you can find them on TikTok. With the right strategy, you can branch out to discover new audiences that align with your goals. Additionally, Tiktok users are highly engaged, with the average user spending 90 minutes per day on the App.
Reduce Friction in the Customer Journey
Take advantage of the interest you've garnered with your video and avoid sending viewers off the app to start the purchase process on your website. By reducing friction in the customer journey and allowing viewers to check out within TikTok, you'll likely see an increase in purchases.
Complement Your Omni-Channel Strategy
Think of TikTok Shop as another retailer or marketplace. Your margins will likely be lower on TikTok Shop due to the 5% commission TikTok takes off every purchase, but acquiring a new customer allows you to enact other parts of your omni-channel strategy, like email marketing and abandoned cart ads, to increase their lifetime value.
Want to learn more about TikTok Shop? Contact us to learn about getting started on TikTok Shop. 
‍