Many brands are consistently looking for ways to optimize their DTC ad budgets in an effort to save money while still reaching their goals.
Slashing your ad budgets is not the answer—rather, you should switch your entire perspective on advertising.
Traditionally, we've always had separate budgets for marketplaces and DTC. You might budget $1 million for DTC and $1.5 million for Amazon. This structure used to serve brands well, but in today's eCommerce world, this limiting structure can hinder growth.
There used to be a line in the sand between these two budgets—they were right, never shifting around. Looking at your advertising in a vacuum could be holding you back in a lot of ways. Of course, there are caveats to this: margins, shipping, and costs can be different across these areas. However, when you take a 360-degree view, you'll start to truly understand that high tides raise all ships!
In a 2019 Google study, it was found that the customer journey consists of 20–500+ touchpoints. Our VP of Advertising, Tayler Jaksim, estimates that the eCommerce journey falls anywhere between 50–500 touchpoints. No longer can you rely on a conversion after one email, one Google search, or one ad. Consumers see over 3,000 ads a day, so converting on the first touchpoint is nearly impossible.
Knowing all of this, you might be overwhelmed to even begin thinking about how to view your advertising efforts differently than you have for perhaps the entirety of your business. 
But there's hope! We're outlining exactly how you can shift your view on advertising to see success across all channels.
Create Dynamic & Fluid Ad Budgets
The first step to maximizing your ad dollars across DTC & marketplaces is to allow your ad budgets across all platforms to be dynamic and fluid. Instead of siloing your ad budgets and keeping everything separate, we invite you to be flexible and allow for changes.
For example, during Prime Day, consumers likely will not be shopping on your DTC site. Instead, they'll be taking advantage of those Prime Day deals. If you have a fluid ad budget, you can shift your ad budget from DTC to Amazon to capitalize on the high volume of sales. With this strategy, you would have seen more growth as a brand, because you moved your budget to where it would give you the most bang for your buck—and help you see marked growth year over year.
The New Customer Journey
36% of sales that occur on Amazon actually start off Amazon, on platforms like TikTok, Meta, or Google.
Customers become aware of a product on a platform like organic search, paid advertising, organic social, or through an influencer campaign. During the consideration phase, they might view your DTC website, Amazon product detail page, and reviews or how-to's on YouTube. Next, they're actually converting—and quite often through Amazon. From there, the customer is onboarded, and you can expand that relationship through cross-selling or up-selling.

As you can see from this very brief overview, the customer journey is no longer linear. They're making stops at many different points along the way, and it's your job as a brand to ensure they keep you top of mind at every stop.
DTC Spend Affects Amazon Sales
As we mentioned earlier, having flexible ad budgets is crucial to seeing long-term growth—so moving DTC budgets to Amazon during high-traffic days like Prime Day is a smart move. However, we also see that your DTC spend directly affects your Amazon sales.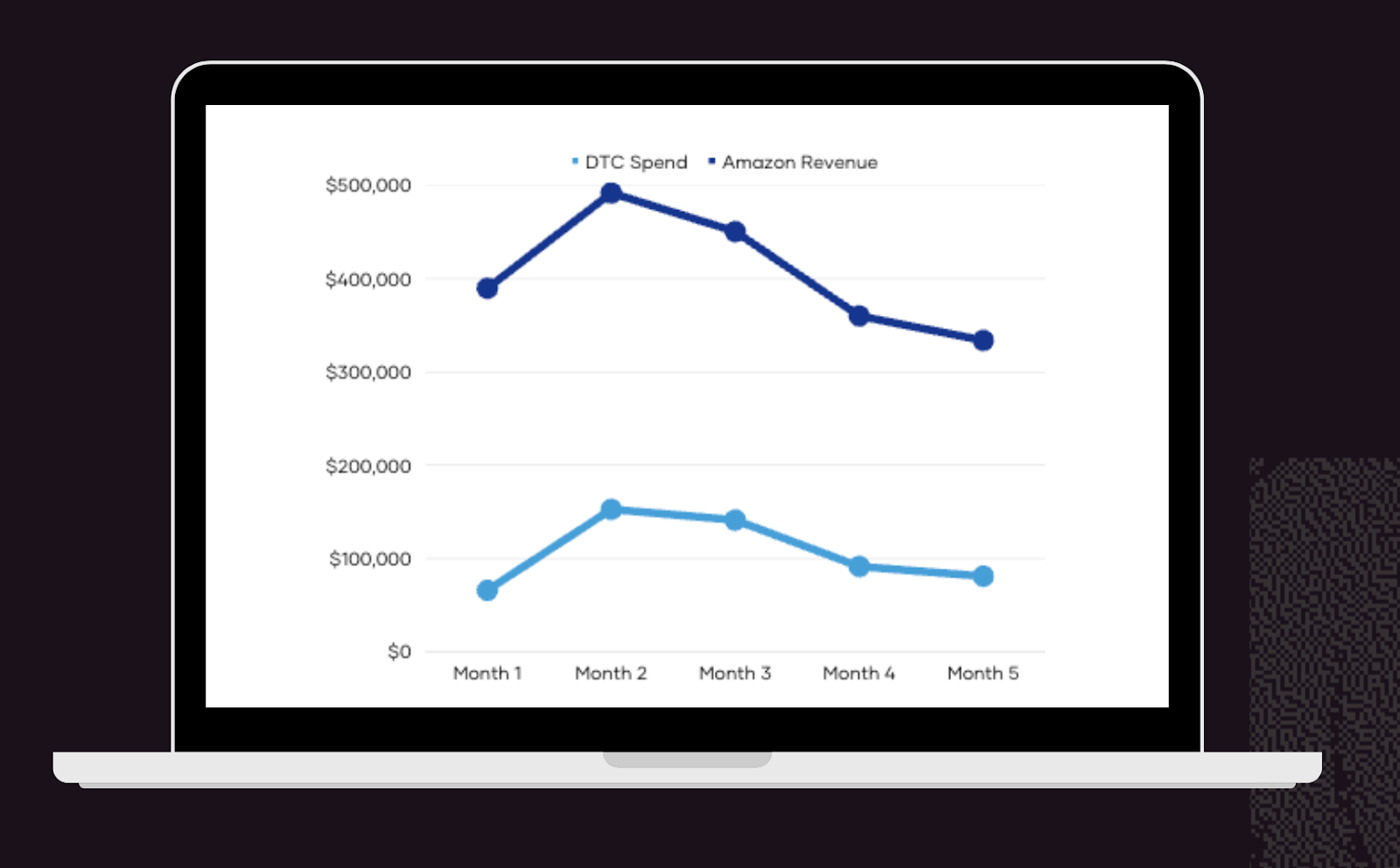 The more new customer acquisition you're running for your DTC, the more it will  directly affect your Amazon sales. For example, let's say a customer sees an ad for your product on Facebook, so they head to your website and browse around. They then  get a retargeting ad, and end up purchasing your product off Amazon. So, even though the sale came from Amazon, it wasn't solely because of your Amazon advertising budget!
This is a prime example of why it's best to view your entire eCommerce advertising as one unit. You can see how your investment is actually impacting all of your sales, not just the ones it directly relates to and you can easily track (e.g., seeing an ad on Instagram and directly purchasing). Amazon expanding their Sponsored Product ads to Pinterest, Buzzfeed, and more is further proof that you should adopt an omni-channel strategy.
Drive Traffic from Meta to Amazon (And Vice Versa)
This might seem a little topsy turvy since we've been trained that Meta and Google should always drive to DTC, and Amazon should drive to Amazon. Tracking issues have prevented this philosophy in the past, but there are now ways we can track conversions from one platform to another.
Amazon highly values traffic that comes from off-Amazon sources, so if you're looking to increase your search ranking, consider driving traffic from influencer campaigns and Meta campaigns to Amazon!
Use Google & Meta Ads to Support Amazon
For example, new product launches on Amazon can be challenging because you don't have the reviews or awareness to drive sales. But, when you drive traffic to these new launches from Meta and Google to Amazon, that will help improve your organic ranking.
During the holiday season, we heavily utilized this tactic. We partnered with URL Genius to track conversions as an added ROI effort. We crafted ads for last-minute stocking stuffers, highlighting that they'd get it before Christmas. This ad drove them directly to the brand's Amazon store, where they could buy the products and get Amazon's lightning-fast shipping.
Use Amazon Ads to Support DTC
On the flip side, you can use Amazon DSP to link out to your DTC site. This tactic is incredibly underutilized, in part because tracking for Amazon DSP has been difficult to set up. When you can't get insight into conversions, how can you accurately track ROI? Now, you can.
Amazon's targeting and rich data can also be utilized by you. You can get super granular with your audiences—even targeting everyone who bought an Oscar-nominated movie in 2005. (Yes, that's a real example that we have witnessed.) Tapping into that data to drive traffic to your DTC will level up your advertising.
It's time to rewire our brains to think we can only use Amazon advertising tools to grow our Amazon accounts.
Shoot Creative for Multiple Channels
Creative is one of the most important parts of your advertising efforts—across all platforms, not just Instagram—as well as your eCommerce efforts on your DTC site and Amazon Store and product images.
Historically, creative shoots have been exorbitantly expensive because you would need to hire photographers, models, and creative directors to get the high-quality content you need, but you would have to do separate shoots for eCommerce, social, and Amazon.
One Photoshoot, Multiple Channels
Now, there's a world in which you can utilize one shoot and use that content across all your platforms. But it has to be done strategically. Finding savings in photoshoots allows you to reinvest that budget back into advertising.
For one of our clients, in a single photoshoot, our creative services team was able to shoot content for all of these channels:
CTV
STV
Paid social
Product imagery
DTC content
Amazon PDP content
Organic social
Email & SMS
This tactic also makes your brand cohesive across all platforms. Your brand will have the same look and feel across social, Amazon, and DTC.
Good Creative Increases Conversions
And, as mentioned before, this tactic will save you money from consolidating multiple shoots into one strategic shoot, but also increase your ROI on advertising campaigns because the creative has been strategically designed to convert.
You're still only having one photoshoot, but the collateral that's delivered to you has been created specifically to convert on specific platforms—whether that is on Instagram stories, Amazon product detail pages, or email. You'll automatically have the creative in the appropriate aspect ratio, and the content itself has been designed to convert.
We call this methodology Conversion Creative, and the strategy our creative team uses to guide photo and video shoots. We've seen creative boost Facebook ad conversion rates almost instantly. Gone are the days of reusing your eCommerce shoots for your advertising (and seeing lackluster results).
If you're interested in learning more, our VP of Sales and Marketing, Zach Riegle, talked about this in-depth on an episode of the Digital Deep Dive podcast.
Implement Strong Marketing Infrastructure
One of the challenges we commonly see is that advertising is seen as the one tool that will solve all of your problems and grow your brand overnight. However, our team sees advertising as the cherry on top of the rest of your efforts.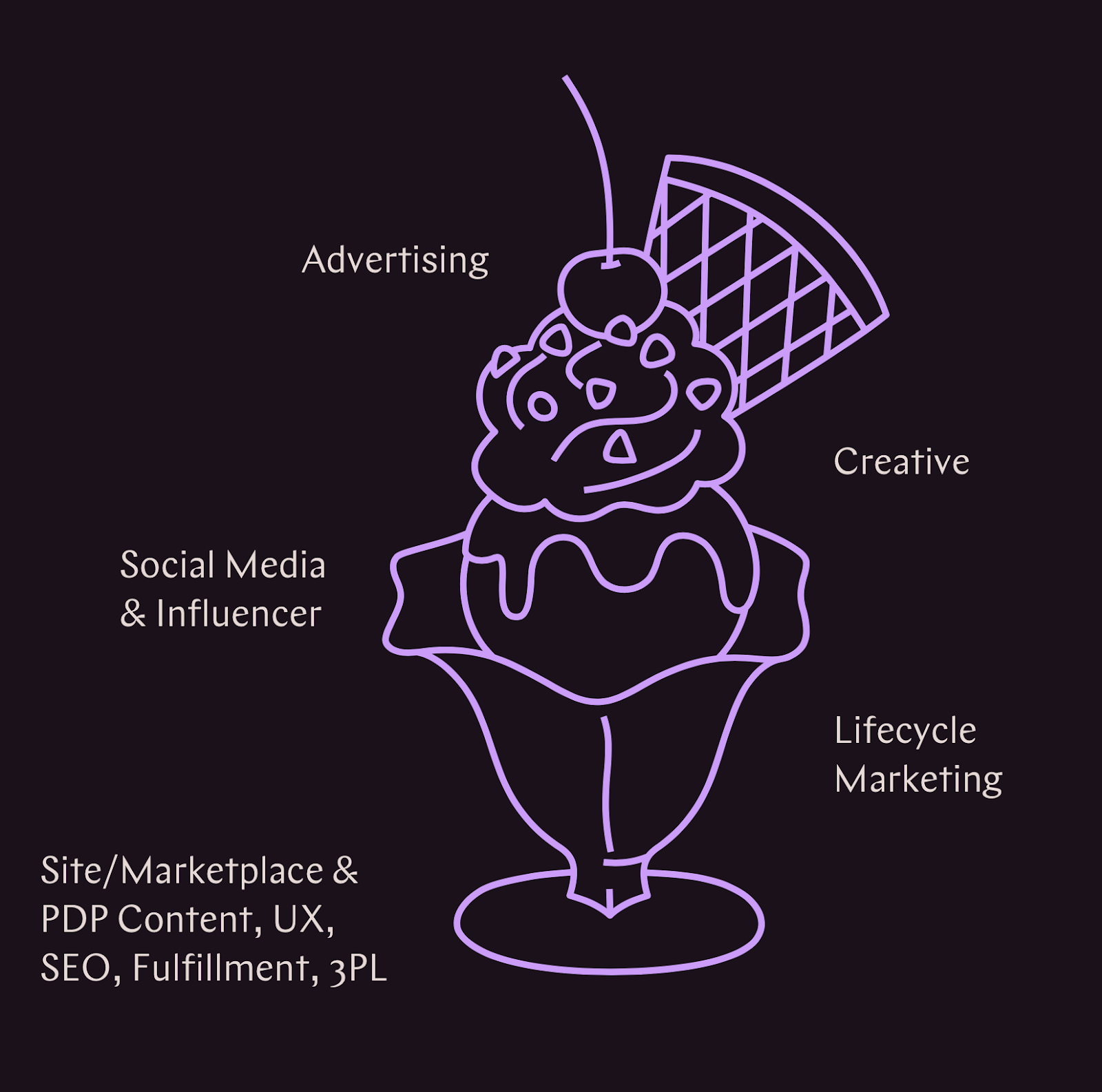 Build Your Owned and Earned Media
To start, you need a strong back-end base. Your content on your DTC and marketplace must be optimized and clear, your SEO must be optimized, your site's user experience must be seamless, your fulfillment must be quick –the list goes on. These back-end operations aren't the most fun to talk about, but they're critical to ensure your brand has a good foundation for the rest of your efforts.
Next, you need a lifecycle marketing strategy  that sets you up for success with automated campaigns and drip workflows. Discount offers for signing up for your email list, abandoned cart flows, and post-purchase upsells are just some examples of the email and SMS automations you can have in place to see success and easily convert potential customers.
Then, the next step is social media and influencer partnerships—your awareness channels. You need to start building awareness and have creators post your content, whether on TikTok, Instagram, or Threads.
All three of these ensure you have a strong earned and owned marketing infrastructure. This is paramount to setting your brand up to see success through advertising. This revenue should be making up at least 50% of your total sales. If your sales for these are lower than that, you might be relying too heavily on advertising to drive sales.
Invest in Advertising & Creative
Creative gets people to convert when it comes to advertising. It's what catches the user's eye and stops the scroll. We've already talked about the importance of creative here, so we won't say more than just invest in good creative.
Lastly comes advertising—the metaphorical cherry on top. This is how you as a brand are able to scale, whether through marketplaces or DTC channels (and utilizing Meta, Google, TikTok, etc.). The reason you're able to scale is because you have such a strong foundation that is bringing in revenue already. Advertising is just adding fuel to the fire. We simply amplify that by reaching new audiences or testing new creative through advertising.
The Importance of Lifecycle Marketing
We wanted to take a moment to highlight lifecycle marketing, because it's currently one of the only channels you can gain first-party data from. But it's also an incredible channel for driving sales. In fact, Mailmodo published that 50% of consumers said they buy something from an email at least once a month, the average ROI for email marketing is $42 per $1 spent, and the average conversion rate for SMS marketing is 29%.
Of course, you should have your automated workflows and drip campaigns in place for abandoned carts, but lifecycle marketing can be used to actively drive sales! You can use lifecycle marketing to promote Prime Day Sales, use Amazon's MYCE to re-engage with past purchasers, or launch a brand-new product. 
Check out more on lifecycle marketing by watching our  recent eCommerce Exchange episode.
Get on TikTok
Your brand needs to be on TikTok, and you need to be on it yesterday.
TikTok is so incredibly important for all brands, and can help you expand your marketing dollars and your owned and earned marketing infrastructure.
TikTok Statistics
50 million Americans log into TikTok daily according to Backlinko. Everyone is consuming media through this app—it's not just a Gen-Z app anymore. 75% of TikTok users are over the age of 20, and 52% are over the age of 30.
Need more convincing? TikTok has over 1 billion active users, and the average user uses TikTok for 95 minutes a day. Consumers are incredibly engaged here!
Perhaps most importantly, 78% of TikTok users say they are ready to take action after engaging with content—meaning you could be converting potential customers there. And, with the launch of TikTok Shop, users can convert even more easily with a seamless, in-app checkout.
TikTok and Prime Day 2023
On Tiktok, the hashtag #PrimeDay had over 1.2B views. People were actively searching for Prime Day deals and consuming #AmazonHaul content (2.6B views). TikTok has become a discovery platform for must-have Amazon products.
Grande Cosmetics posted their brand's Prime Deals on their TikTok account, partnering with influencers like Alix Earle to post content before and during Prime Day. They also launched a TikTok Spark Ads for added amplification.
‍
Let the experts at Blue Wheel maximize your ad dollars while seeing exceptional growth. Reach out to the team today!
‍