We've seen several recent changes that have many brands asking about a hybrid model as Amazon selling becomes a long-term initiative.
Download our Hybrid Considerations Sheet which includes a link to help you estimate FBA fees and a link to Amazon's standards (Terms of Service) for Brands Selling in the Amazon Store via Seller Central.
With the Amazon hybrid model, a brand maintains both a 1P relationship through a vendor account with Amazon, but also has a presence on the 3P marketplace through their own brand's seller account or through an authorized reseller.
This piqued interest seems to be due to limited fulfillment center space, purchase price requirements, suppressed buy box, MAP violations, or frustrations with Amazon CRaP out products. This is resulting in brands considering an alternative model to best service their customers with profitable outcomes.
Before jumping in headfirst, it's important to understand exactly how a hybrid strategy can work for your brand.
Questions for Consideration
Ask yourself the following question:
Am I considering a hybrid strategy due to price squeezing from Amazon? And if yes, is Amazon asking for this additional discount for retail price matching purposes?
When you have concerns with Amazon's price matching, switching to a Seller Account isn't a simple fix for your price matching concerns. Although you want to avoid the lowest-price-wins game, on the 3P side you'll likely end up seeing a suppressed buy box. If they aren't price matching, Amazon instead takes the product out of search and you're unable to advertise in Sponsored Product Ads, and ultimately your profits will plummet.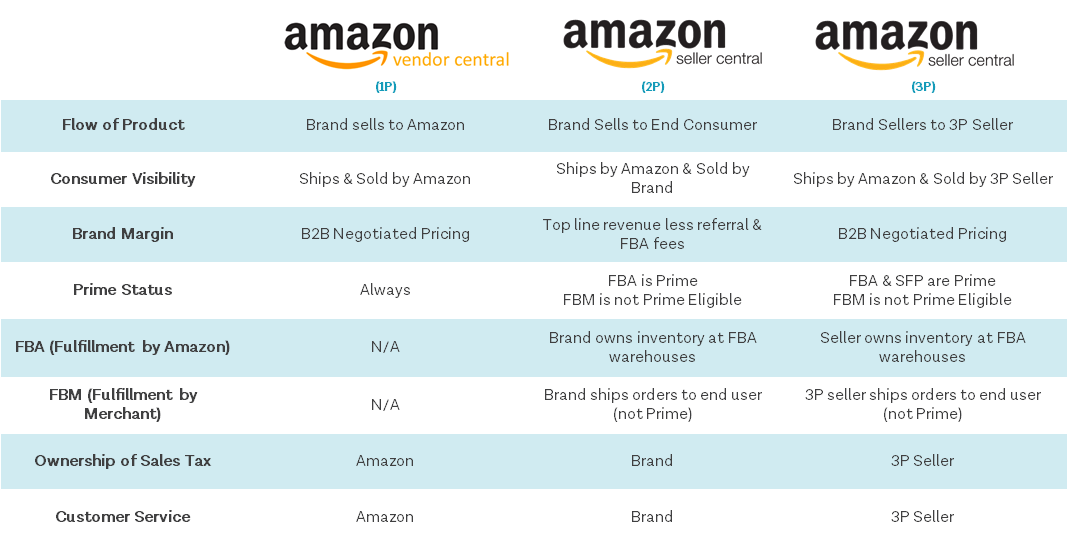 So, what are your options in this case?
Band-aid Options
We often see brands take the following approaches to "fix" price matching:
Option 1 short-term approach: Create exclusive Amazon SKUs/variations, but price matching is still likely based on photo and title.
Option 2 short-term approach: Launch your own Seller Central (2P) account for B2C margins, but this requires organizational support across all departments.
Option 3 short-term approach: Leverage the 3P wholesale or revenue share model, but there is a potential long-term margin deterioration.
Suggested Solution
The best option here is implementing & enforcing MAP and reseller policies. This is a long-term project that requires ongoing management, MAP monitoring & enforcement, and software is recommended. This is your best defense strategy to the continuing concerns with price matching.
Challenges of a Transition
At this point, you should fully understand Amazon's terms of service.

Consider the risks involved in a 2P seller center:
Seller central account is denied: your application is not approved, and you're unable to move forward with an account at all.
Cannot ship products to FBA: you're able to open an account, but you can't leverage FBA – and you're unable to ship Prime
Unable to create new SKUs: all the above goes smoothly, but then you receive the following error message, and you can't build your new UPCs.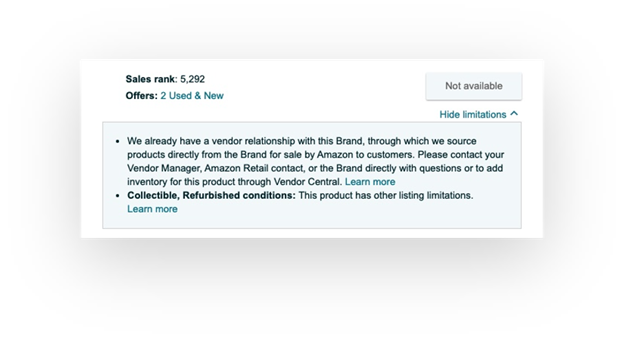 When considering the hybrid strategy, always be transparent with your vendor manager. Additionally, be thoughtful and explicit about why it's a better experience for the customer, whether that's to avoid stock-outs or inconsistent shipping windows, etc.
It's also important to note that you may have to pivot quickly, so always have a plan in place for 3P or 1P backup if - worst case scenario - your account gets shut down or your 3rd party seller is unable to fulfill your orders.
Visit our Amazon Tips page for more strategic insights. 
Although challenging, a hybrid selling strategy can be implemented successfully with the right insight and techniques to get you there. Schedule a consultation with our team if you're interested in learning more about how we can help begin the transition for you.