Amazon Vendor Central is one of three ways brands can sell their products on Amazon. Like any of the selling options, there are pros and cons to consider when deciding how you want to structure your Amazon business.
Before we discuss our tips for seeing success on Vendor Central, let's dive into the basics of the program to understand whether it's the best option for your brand.
What is Amazon Vendor Central?
Amazon Vendor Central is a platform that allows sellers to sell their products directly to Amazon, who in turn will ship and sell the items themselves.
This model is a great fit for brands who are looking to reduce overhead costs by eliminating the need for in-house warehousing, shipping, and customer service. With Vendor Central, Amazon handles all of these steps in the process.
Amazon Vendor Central vs. Amazon Seller Central
The next logical question many brands ask is the difference between Amazon Vendor Central and Amazon Seller Central.
In short, the main difference between the two is that with Vendor Central you sell to Amazon, and with Seller Central you sell the product yourself on Amazon. In the chart below, you can see a detailed outline of the exact differences between these two options.
With Seller Central, you have two options — selling the product to the end consumer yourself (2P) or selling the product to a 3P Seller who then ships and sells the product to the consumer (3P).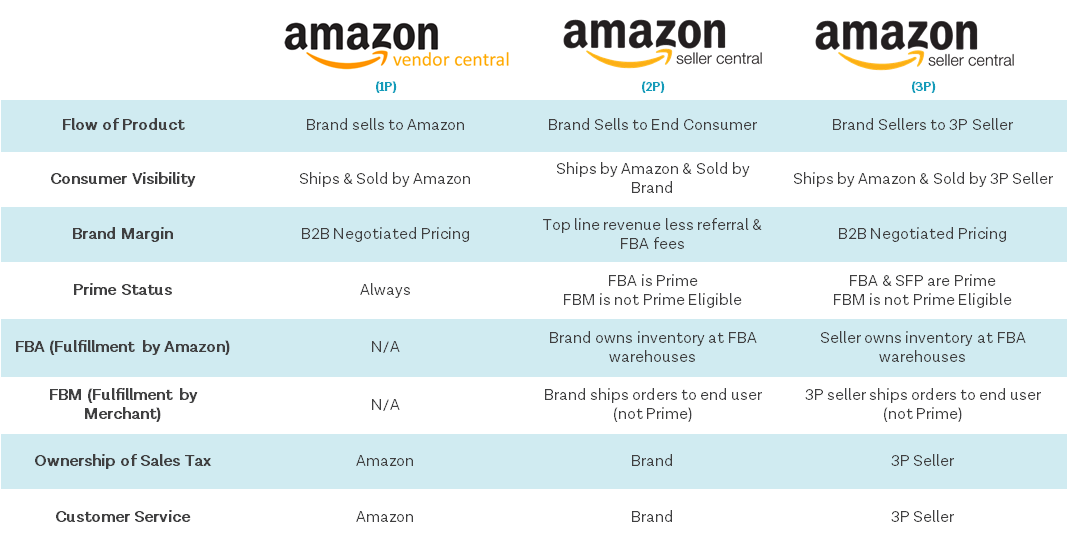 Amazon Hybrid Strategy
If you're having a tough time deciding whether Vendor Central or Seller Central is right for your brand, you're not alone. Limited space in Amazon's fulfillment centers, MAP violations, and suppressed buy box are just some of the reasons brands are looking for a different solution.
Enacting a hybrid selling model on Amazon is one way to best service your customers and maintain profitability.
With the Amazon hybrid selling approach, a brand maintains both a 1P relationship through a Vendor Central Account with Amazon, and a presence on the 3P marketplace platform through their own brand's seller account or through an authorized 3P preferred reseller, such as Blue Wheel.
Tips for Success on Vendor Central
Now that we've established what Vendor Central is, we can dive into some specific tips for success on the platform to help grow your brand's presence!
Optimize Your Listings
Catalog management is one of the first steps to take when looking to increase sales on Amazon, whether you're 1P or 3P. By optimizing your titles, product descriptions, A+ content, and product images, you'll increase not only SEO but also customer satisfaction — because there's nothing worse than receiving a product that is different from the description.
But catalog management is also an extensive process of classifying, aggregating, and managing product-related data to ensure consistency and accuracy across all sales channels. It's a complex process that results in a seamless customer experience.
Increase Advertising Efforts
It's well-known by now that Amazon Advertising is one of the most effective ways to grow your sales on the marketplace. Appearing first on the organic SERP is great — until your competitors buy that ad space and appear ahead of you. In order to maintain authority for your search terms, you need to advertise.
By establishing a strong brand identity on the platform, you'll increase your product's visibility, stand out from your competitors, and attract new customers. Taking a data-driven approach to Amazon Advertising is key to see success.
Enforce Brand Protection
Lastly, make sure you are protecting your brand on Amazon. If you've enacted a hybrid strategy, this is still critically important!
Remove unauthorized sellers to maintain control of your brand. Additionally, enforce MAP (minimum advertised price) policies to ensure your authorized resellers aren't undercutting you. This will improve your chances of getting the buy box back on your listings as well!
‍
If you're tired of navigating the world of Vendor Central, partner with Blue Wheel as your 3P Preferred Reseller. Reach out to learn how we can expand your brand.
‍