Anyone who has experience selling on Amazon knows that things change rather quickly, and Seller expectations continue to grow.
There are many factors that go into running a selling account, but one of the most important factors is customer service. Most people are aware of the "unofficial" expectation for sellers to respond to all customer inquiries within 24 hours, but are there other similar rules that sellers should be concerned with?
Keep reading for a breakdown of Amazon's Customer Service Metrics (Beta), what they are, what this means for sellers, and how these metrics could impact your Account Health and ability to sell in the future.
What is the Customer Service Metrics Beta?
The Customer Service Dashboard Beta is a tool that Amazon is testing to help monitor the key metrics that Amazon believes impact the buyer's satisfaction with the customer service they receive. You can navigate to the Dashboard through the messaging center, by clicking on the Customer Service Dashboard Beta link on the right-hand side of the screen.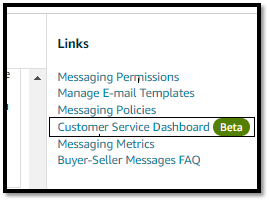 Key metrics on the dashboard:
First Contact Resolution Rate is the rate in which you can resolve the customer's issue within the first response.
Average Response Time is the time it takes to respond to the customer's emails. Although Amazon's team has worked within the standard of emails answered within 24 hours before considered overdue, this metric has a narrower scope, with anything over 12 hours "needs attention".
Customer Service Rating this rating is gathered from customers that participated in a survey following their experience with you. Keep in mind that there must be at least 40 Reponses to the survey for the metric to update the new criteria. Depending on the Customer Service Dashboard health, this could be a positive or negative for the seller.
Although sellers have some control over the First Response Resolution Rate and Average Response Time, the Customer Service Rating depends on customers taking a survey (which is not mandatory) after an inquiry has been resolved. In general, satisfied customers will not take extra time out of their day to complete a survey, however, unhappy customers will. Because of these factors, this metric will likely be the most challenging to maintain.
Why should sellers start monitoring this?
In our experience, sellers can't start monitoring a metric early enough. If Amazon is putting it out there, even if it's still in beta form, you can bet that it's because it will eventually be enforced, and they are testing the waters. It's in the best interest of sellers to start monitoring these metrics on a weekly basis and consider keeping track of your metrics over time, so you can start to get a pulse on where you stand.
If you're consistently below the standard, make it a goal to improve before these metrics become a requirement. Historically, Amazon Betas eventually get rolled out officially and become requirements. Instead of getting caught off guard when that day comes, stay ahead of the game.
How can Sellers take steps to improve their scores?
Here are the best practices according to Amazon:
Do's:
Shorten the time to respond to and resolve buyer issues.
Always meet Amazon's 24-hour service level agreement.
Personalize your communication (e.g. name, repeat customer, prior communication).
Write clear, concise, and professional responses to buyer questions.
Test any included links before sending the message.
Include tracking information when responding to buyers asking for a shipping update.
Have buyer-friendly cancellation and return policies.
Ensure your shipping and return policies are listed on the product page.
Acknowledge buyer complaints, apologize and ask what you can do to fix it.
Be clear in setting your customer's expectations and meet them (e.g. response time, replacements, refunds).
Don'ts:
Ship without tracking information.
Ask customers to find information or complete work that you are able to do yourself (e.g. contact the carrier).
Include vague or empty product descriptions, shipping or return policies in your messages.
Send automated replies to emails to customers.
In addition to the tips Amazon provides, we recommend jumping into the dashboard regularly and familiarizing yourself with how it works. It is best to stay a step ahead of Amazon for when this Beta Dashboard becomes another daily metric that needs to be monitored. Find your weak points and address them now.
Looking at the bigger picture will help you get to the root of the problem and put a plan in place to improve your scores. For example: If your First Contact Resolution Rate is poor, it's probably time to review your strategy for resolving customer inquiries. Instead of pushing back, dragging out the problem (which not only wastes the customer's time but wastes your time and money) provide a refund right away – especially on low-value orders. It's not always possible to solve an issue within the first contact, however, try to get into a habit of gathering all information in the first contact with the customer. In our experience, this results in more first contact resolution inquiries, and in turn, more satisfied customers.
To sum up, never underestimate an Amazon beta – and always stay on top of new metrics and dashboards within Seller Central. We know how much work goes into this which is why we provide resources on our website. For more of the latest updates on Amazon and e-commerce in general, check out our Marketplace Updates page, and stay up to date on our Blogs.
Our team of Amazon experts are always here to help, so if you have any questions on your brand strategy going into Prime Day or beyond, schedule a consultation today. 
Feel free to reach out to us with questions, or subscribe to our blog so you don't miss a thing.