Last year, Walmart announced the Pro Seller Badge as a reward for Top Performing Sellers who met the requirements. 
Previously, Walmart required sellers to have a Delivery Defect Rate of less than 5%, maintain at least 60% of trending items with a Listing Quality Score of 50% or better, maintain a Cancelation Rate of less than 1%, and offer Free Online/In-Store Returns.
Recently, they have made an update to the requirements. The new requirements include:
Have a Delivery Defect Rate of less than 10%
Maintain at least 70% of Trending Items with a Listing Quality Score of 60% or better
Maintain a Cancelation Rate of less than 2%.
More than 100 Orders in the Past 90 Days
It is important to also note that sellers must not have any policy violations, and the account must be active for 90 days before eligible.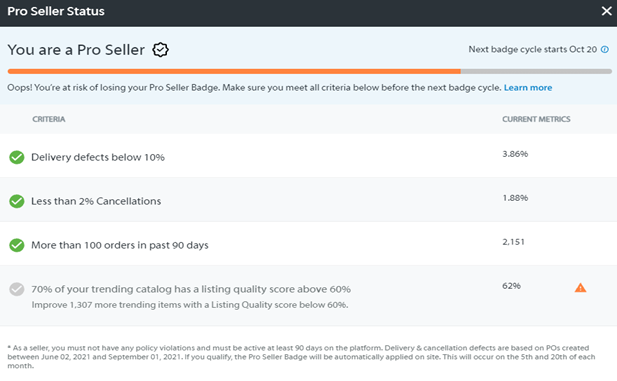 When Walmart first announced this, the next Badge Cycle was October 5. However, they extended the deadline to October 20 to allow sellers more time to adjust to the change and have a better chance of keeping their badges this cycle. New cycles begin on the 5th and 20th of every month.
What are trending items?
Trending items are products that have either had a sale recently, has had recent frequent traffic on the detail page, or is one of your top sellers. You can view your trending items on the Growth Page in Seller Center - make sure the "Trending Items" toggle is turned on: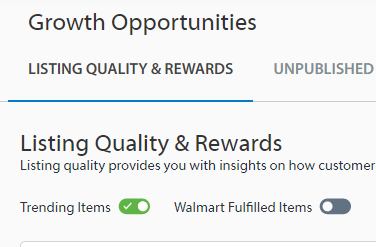 Benefits to Having the Walmart Pro Seller Badge:
When you are a Pro Seller on Walmart, you are rewarded with a Pro Seller Badge that displays on the front-end of your PDPs, as well as on your Walmart Store Page.

The badge can help sellers boost exposure, and gain consumer trust. It is designed to stand out on the Walmart search pages, which can help with increasing visibility and overall sales. It is in your best interest to work towards getting the Pro Seller Badge in Walmart, not only because of the direct benefits of the badge – but also because the metrics being measured should already be one of the main focuses for Walmart sellers, as those metrics are important regardless of whether the Pro Badge exists or not.
Steps to Earning your Pro Seller Badge
Delivery Defects Below 10%:
Walmart requires Sellers to maintain a Delivery Defect rate of 10% or less. The Delivery Defect Rate is a metric that measures. According to Walmart: "ODR is determined by dividing the number of orders that include any one of the defined "defects" by your total number of orders during the same time period. Note that the rate is calculated per order, so if a single order includes multiple defects, it still only counts as one defective order."
Less than 2% Cancellations:
Sellers must maintain less than 2% cancelation rate. Cancelations are orders that the seller cancels for any reason. Avoid needing to cancel orders by posting accurate inventory levels, having adequate staff to ship out orders daily, and listing correct product information to your pages.
More than 100 Orders in the past 90 Days:
Sellers must receive at least 100 orders in the span on 90 days.
70% of your trending catalog has a listing quality score above 60%:
To figure out which SKUs are counting against you, you will need to download the Trending Items under Listing Quality on the Growth Opportunities page, and filter to only include SKUs with a score between 0% and 60%. This allows you to focus on improving the Quality Score so you meet Walmart's requirements. You can also work on the SKUs individually, directly on the page. If you have a small catalog, this will be the best way to go about it.
Next to the item, click "Details".

This will pull up all the item details, highlighting which attributes need to be added or improved. If there is a lock next to the attribute, it means Walmart does not consider you to be the content owner, because another seller has ranked higher than you. In that case, you will need to work with Walmart Support and open cases to get the content overwritten.

The Four Statuses of Pro Seller Badge
Not Eligible (have not met requirements)
Eligible (you have met requirements, but you must wait for the next badge cycle date)
Badged (you have the pro seller badge, and you are on track to keep it next badge cycle date)
Badged with Alert (you have the pro seller badge currently however you are on track to lose the badge next badge cycle date)
How Retail Bloom Can Help
If you need help with managing your Walmart Account, the Retail Bloom Team can help you achieve a success while selling on Walmart.com. Our team of experts have experience with launching Walmart accounts, creating and optimizing listings, best practices for maintaining account health metrics, and getting the Pro Seller Badge.
If you need help with creating a winning strategy that is sure to set you up for success, contact our team of experts at Retail Bloom to assist you.
For more updates on the Amazon marketplace, visit our full Amazon Tips content gallery.