Amazon announces two value-recovery services options for automated removal of unfulfillable inventory.
On September 9th, Amazon.com announced that they added two more Value-Recovery service options for automated removal of Unfulfillable Inventory. NOTE: We noticed in our account that Amazon auto-enabled this new setting for us and enrolled us in the program.
New Refurbishment and Liquidation Options
Previously, the only options were to Return or Dispose of the units – meaning, Sellers could choose to have these items sent back to them, or they could choose to have the units disposed of by Amazon. Now, Sellers have the options to Refurbish or Liquidate their unfulfillable inventory as well.
Refurbishment is an option for eligible products that were returned and are still in new condition but need "low-touch" refurbishing in order to be considered "Sellable" again by Amazon.
Liquidation is an option for products that do not fall under the Dangerous Goods (Hazmat) category and have not been recalled. Amazon will liquidate your inventory through a trusted source, for a low cost. Your Net Recovery Value will be determined by a few factors:
Your Sales history
The average FBA Selling Prime on Amazon
The sales history of the ASIN
Liquidators purchase inventory at Gross Recovery Value (about 5% - 10% of the Average Selling Price), Amazon deducts their fees and you're paid the Net Recovery Value.
How does this impact sellers?
Taking advantage of these new Removal options can help sellers have better control over their storage fees, IPI scores, and storage limits. Sellers who aren't already using the Automatic Unfulfillable Removal setting, may want to consider opting in, as this can help streamline your inventory processes, by saving you time and money, and ensuring that your unfulfillable inventory is continually moving, instead of staying stagnant and racking up storage fees (which can quickly eat into your bottom line). Amazon has also given the sellers an opportunity to turn this on or off by category of products, which allows you to have more control over what is included in this program.
To navigate the Automatic Removal settings, go to Inventory > Manage Inventory > Remove Unfulfillable Inventory. Once you are there, on the top right corner of the page, click "Auto Removal Settings". This is where you can enable or disable the automatic removal settings, and choose whether you want to Refurbish, Liquidate, Return, or Dispose of your unfulfillable inventory.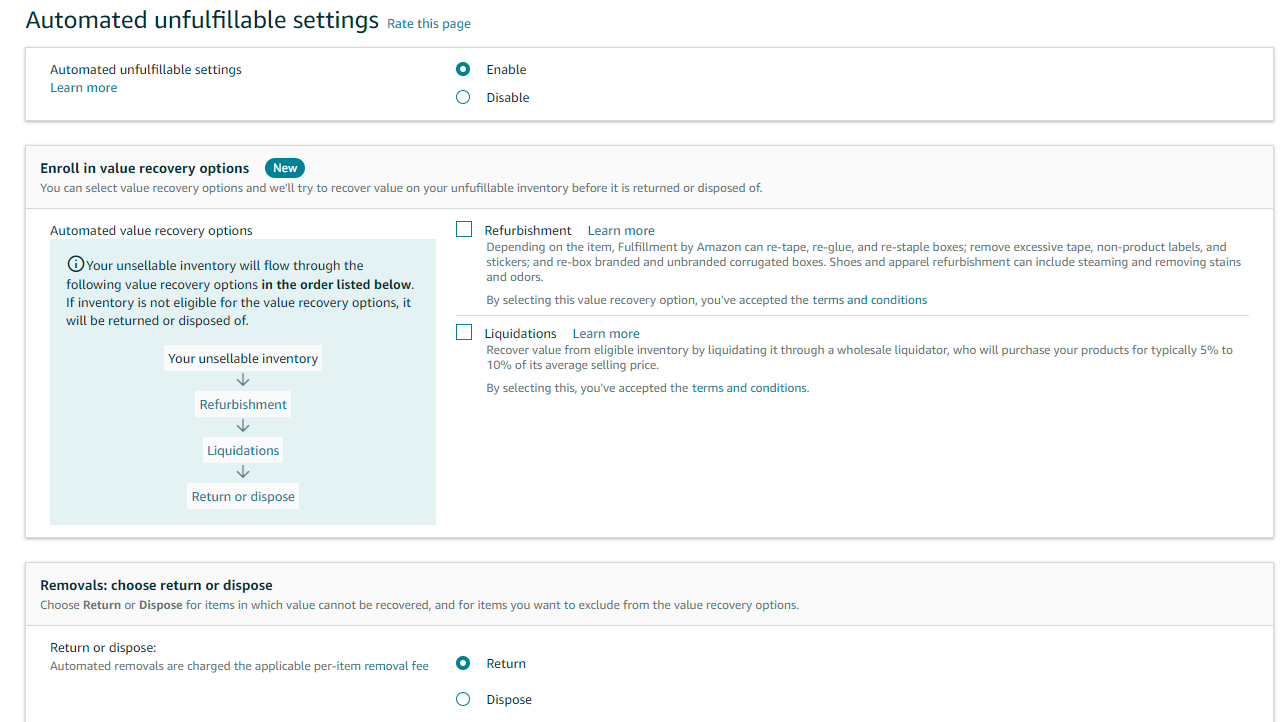 On the settings page, you can set up a schedule for how often you would like the removals done (Weekly or Biweekly). You will also need to enter your business information, such as return address, contact information, etc.
It's a good idea to take some time to strategize on what makes the most sense for your business. This could involve a mix of different removal options, or after some testing, you might determine it's best to stick to the old-fashioned way, and have returns sent back to you directly. Regardless, it is exciting to see this update from Amazon; it demonstrates their continual efforts to make selling on Amazon.com a better experience for both customers and sellers.
How can Retail Bloom help me? 
If you would like to consider adding inventory management to your current Retail Bloom agreement, please contact Nicole Reich at [email protected].  
As with many other Amazon changes, updates are made frequently, and we'll continue to keep up-to-date with these changes as we learn more. For continued Amazon updates be sure to visit our Marketplace Updates content gallery.