Changes are coming to the Amazon Removal Order Policy beginning November 1, 2023. Sellers should check their automated removal order settings now to ensure they're set up to their preference to avoid unwanted inventory disposals!
What Are Inventory Removals for Amazon FBA Sellers?
When inventory is shipped to Amazon's fulfillment centers to be fulfilled via the FBA program, a handful of units will almost always end up becoming unsellable. Most often, unfulfillable inventory occurs because of customer returns. Other times, items are marked as unsellable due to investigations sparked by high customer complaint rates.  
Amazon doesn't store unfulfillable inventory. This means once the item is marked as unsellable, the seller must choose to either have the items removed (returned to them) or disposed of.
How is the FBA Inventory Removal Policy Changing?
Amazon recently announced that beginning November 1, 2023, sellers who haven't chosen a removal option will have their settings defaulted to Immediate Disposal. Along with that, sellers who previously selected "dispose" as the removal method for unsellable units will have their removals scheduled at the discretion of Amazon.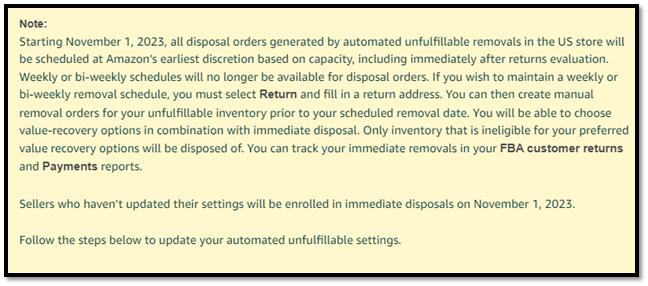 Sellers should review their settings now and ensure they're set up to their preference before November 1, 2023, to avoid unwanted removal outcomes!
Optimizing your FBA Removal Preferences:
There are several setting options for FBA sellers for removal order preferences. Not only can you choose between having unfulfillable inventory removed or disposed of, but there are also value recovery options including Refurbishment and Liquidation. If you're interested in learning more about Refurbishment and Liquidation options, check out our previous article.
If you're a client looking for more information, contact your account team! If you're interested in learning more about how Blue Wheel can aid in your brand efforts in online marketplaces, schedule a consultation with our team, we would love to hear from you.