On October 11, Amazon.com announced in Seller Central that starting October 26, all items sold under the Fashion category will feature a Free Returns message, and Sellers will not have the option of opting out.
Amazon offered free returns in the Fashion category already, and they are now requiring 3rd Party Sellers to do the same. This means if you sell in the Fashion category, whether you are an FBM or FBA seller, you will have no choice but to offer free returns on all orders under the Fashion category. This includes Apparel, Shoes, and Jewelry/Watches. Note: This only applies to orders shipped to a US address.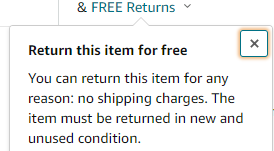 The return shipping cost will be covered by sellers. Free returns must be offered - the customer will receive a prepaid label, which Amazon provides (by charging your account for the cost of the label). When the return arrives back at your facility, a full refund should be issued as soon as possible. You cannot deduct the cost of the label from the refund. If you receive a return that is not in new condition; I.e.: stained, ripped, worn, original tags removed, or not the item you originally sent – you can charge a restocking fee. See information from Amazon regarding restocking fees here.
Amazon will always continue to find new ways to appeal to customers. The data is clear: customers expect free returns, for any reason – especially in the Fashion category. Sellers are now expected to eat the cost of free returns being advertised on their PDPs. This is just another cost associated with selling on Amazon.
If Brands and Sellers want to leverage the high traffic of customers browsing Amazon.com, part of the game is having to adjust to the constantly changing policies and rising selling costs. 
With the constant updates in online marketplaces, it's important to get acquainted stay up-to-date with the latest changes. Review the policy help page, or if you are looking for additional information, contact your strategist or schedule a consultation with our team. 
For more marketplace updates, be sure to subscribe.