Shopify Merchants can now connect their Amazon Prime offerings directly to their retail website! The Buy with Prime Shopify pre-release app allows Shopify merchants to fulfill their orders with Amazon Prime delivery using their FBA inventory.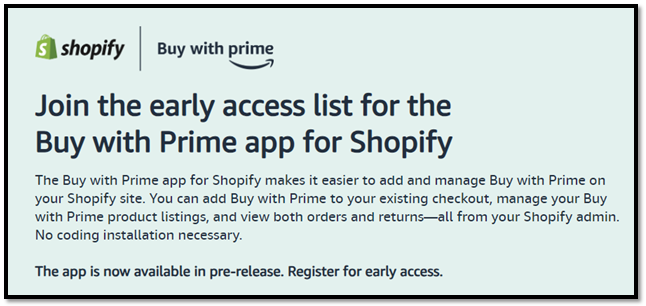 What is Shopify?
Shopify is a popular website-building software that allows brands to easily build a website, product listings, and receive orders on one user-friendly platform.
"We help people achieve independence by making it easier to start, run, and grow a business. We believe the future of commerce has more voices, not fewer, so we're reducing the barriers to business ownership to make commerce better for everyone." - Shopify
How Can Shopify Merchants Benefit from Amazon's Buy with Prime Program?
If you're already enrolled in the Amazon FBA program, and you also use Shopify to fuel your brand's retail site, it's a good idea to enroll in the Buy with Prime program so that your off-Amazon customers can benefit from Prime delivery if they're existing Prime members. To connect your Shopify account to the Buy with Prime program, join the early access list! To learn more about the Buy with Prime program, check out our previous article.
If you're a client looking for more information, please contact your account team. If you're interested in learning more about how Blue Wheel can aid in your brand efforts in online marketplaces, schedule a consultation with our team, we would love to hear from you!