Let's talk about clipping in Gmail.  
What Does Message Clipped Mean on Gmail? 
When an email is received, Gmail will display the first 102 KB of your message and then show the "[Message Clipped] View entire message" directive. If your email is clipped by Gmail, your message is cut and requires readers to click "view entire message" to see the remainder of your information. Of course, this is not a good experience for readers and your email runs the risk of not being read by your contacts.  
However, if the tracking pixels are at the top of the email, your data will still be intact. 
Gmail is looking at the HTML file size of your email, so large images do not cause the message clipping. The code used to display an image in an email contributes to the message size – it's important to consider the elements that make up your email – HTML, text, links & URLs.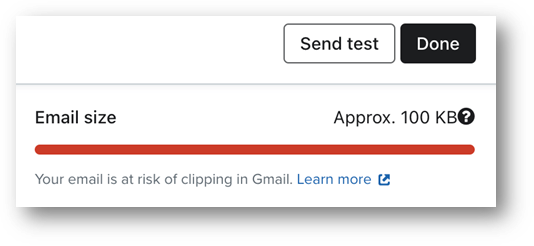 We Tested Gmail Clipping 
The Blue Wheel lifecycle team recently tested an email that clocked in just over 100kb in the Klaviyo estimate. When we sent the email to Gmail, the clipped notice appeared, but nothing was visibly missing. A test to Email on Acid confirmed rendering to be the same, with no visibly missing elements but that same menacing link at the end of the email.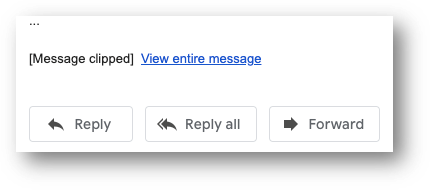 For this particular test send, subscribers weren't actually missing out on content. However, Clients often ask, "what about a longer email with an entire module of recommended products missing or a banner to the sale section?"  
To prevent the loss of engagement, we always recommend stacking your top-performing content at the top of the email. In the event an email does get cut off, your most valuable content is at the top. An engaged subscriber using Gmail on a desktop will most likely click to download the rest of the email if they are truly interested. 
What Messages are Most Likely to Clip? 
In our experience, Cart or Browse abandonment messages with dynamic products are most likely to receive the messaged clipped, view entire message directive.   
Why? If your setup pulls all the items browsed or in the cart from the recent session, this particular message could get quite long if the customer was browsing several items.  
If you are having consistent issues with emails getting clipped, it might be time to take a deeper look at the metrics - are all the components included necessary to drive conversion for your brand? You should always be able to answer: What are subscribers really interested in? 
Pro tip: Check your bottom navigation links - using unique URL tracking on these links can confirm if it's worth having this stack of links at the end of every email or if they are just white noise. 
‍
If you want a lifecycle marketing agency partner to handle your email & SMS automation, reach out to Blue Wheel. 
‍