After the past year, our team was ready to hit the expo halls to discuss big topics, learn, regroup, and share our marketplace strategy learnings, and the 2021 Prosper Show in Las Vegas did not disappoint.
The Prosper show is the prominent conference and trade show for established Amazon sellers and leading solution providers. Top sellers were joined by former Amazon insiders as well as leadership from top marketplace solution providers to discuss hot topics and network with like-minded leaders. 
With constant changes in the Amazon world, our team enjoyed hearing from other eCommerce masters and plan on improving our own processes with some key takeaways. After 3 days and nearly 40 pages of notes, we narrowed down our for each of the tracks from the show:
Drive Traffic
Optimize Efficiency
Reputation Management
Maximize Impact 
Drive Traffic
Increasing competition and demand for ad space on Amazon is causing advertising costs to rise, averaging $1.20 per click, up nearly 50% year-on-year according to a report by Marketplace Pluse. To combat this, it's suggested to improve your organic traffic by focusing on driving off-amazon traffic to the platform such as through influencers, social media campaigns, TikTok, and more.
Additionally, revisiting the buy one get one promotion seems to record as double conversion which then drives the flywheel effect. Feedvisor explains the flywheel effect as being centered around price value, "the lower and more competitive the prices are, the more appealing the products are to prospective customers, propelling more third-party sellers and brands to want to sell on the marketplace". This then drives down costs and increases customer engagement and conversion.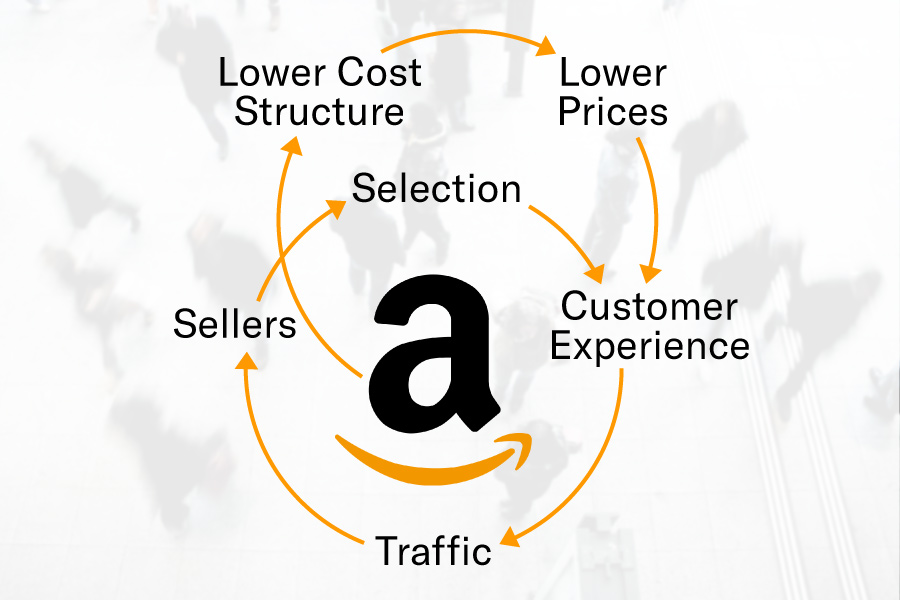 source: Feedvisor
Influencer Marketing
Off Amazon traffic is more meaningful for search algorithm than on-platform traffic, and a good alternative option as Amazon advertising CPC increases. With influencer videos, you can repurpose videos for PDP, store, and in-search video campaigns.
If you decide to go the influencer marketing route, focus your efforts on Instagram and YouTube as they see more engagement than Facebook or TikTok. Feature your best sellers with reviews over a product launch but if you do decide to move forward with influencer marketing for a product launch, be sure to run the campaign in the first two weeks of the launch for best results.
Video
When thinking about video ads, you want to start with an action right away over a company logo introduction, and additionally, your customer shouldn't have to guess what the product is – make sure to act as the consumer and assume you are seeing the video for the first time without context.
The misconception around video creation is that it's costly and time-consuming, but it can be as simple as using still images with a slow zoom. Focus on 10-30 second Sponsored Brand Video ads, as that is plenty of time to get the attention of your customer.
Amazon Live
Livestream eCommerce is a business model in which retailers, influencers, or celebrities sell products and services via online video streaming, offering their audience visuals and answers in real-time. According to Forbes, it is estimated as a $60B global market, with the US currently making up just about $1B of that in 2020, although doubling from 2019.
In China, 9% of all online retail sales are coming from livestreams, and this is expected to grow. Amazon is taking note of this popular platform and they seem to be expanding their staff to prepare for the growth of live.
At this time, it's slowly gaining momentum for the US. Based on a limited number of campaigns we've tested with our partners in 2020-2021, we have seen varying results as it relates to driving awareness and sales but we have found fitness and beauty categories performed better than other categories. Seeing as it's a fairly low-cost option with Amazon not yet charging for it, Amazon Live is limited to the cost of production and time. We plan to continue testing this feature as customer engagement and familiarity increases.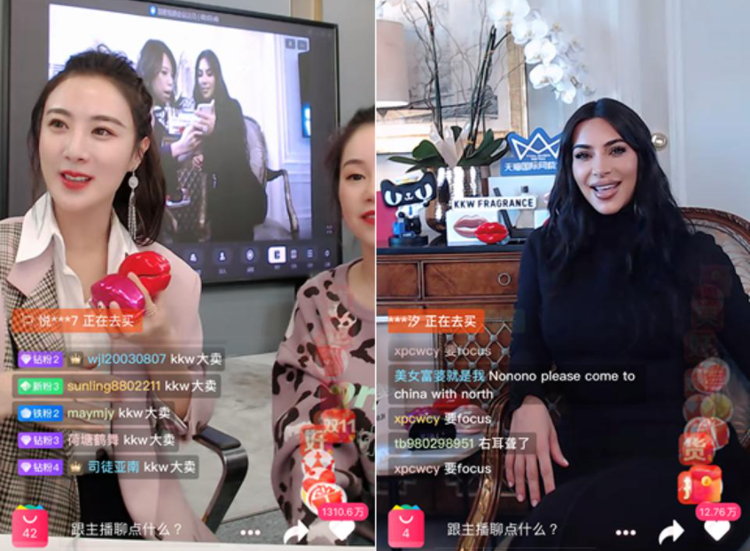 source: Forbes.com
Optimize Efficiency
When looking to enhance content effectiveness across the board, start with the following.
Restricted Categories
If you're selling in restricted categories (i.e. CBD, supplements, etc.), stay away from banned terms in your content. Instead, find competing products in the category and analyze the keywords that are being used in the space. Once those are added to titles, bullets, and backend fields, set up auto campaigns and product ASINs targeting campaigns going after those products. Amazon will start serving your products in the auto campaign terms once they find your products relevant to competing items.
Catalog Management
Make sure you're filling out all fields that pertain to a listing, not just the required fields. Leaving specific fields blank allows other sellers to submit attributes for those that are missing, and then gives other sellers ownership over part of the listing. To pinpoint blank fields within your catalog, use the category listings report and do your best to populate data within these fields to own a majority of the listing, even if the fields are not required.
Content Optimization
You want your images to be able to answer customer questions instantly, just as if they were picking up your product in the store. When choosing images, consider using a platform such as PickFu to determine the most appealing main image. A zoomed-in photo of a model wearing a product was found to have 11% higher sessions than a full head-to-toe image. Add text, or even review quotes to your images.
When optimizing your PDP, do your research on competitor reviews on various platforms (i.e. YouTube, Instagram, etc.) to adjust wording based on positive and negative reviews and comments. However, instead of simply copying your competitors, use the Unique Selling Proposition (USP) to stand out in a crowded marketplace of similar sellers.
Lastly, create an emotional connection with your buyer to appeal and relate to your customer while highlighting the benefits of the most-important features. But remember, never start a bullet with all caps, as you may get suppressed from search.
Reputation Management
To grow and ultimately protect your business, you need to understand customer satisfaction and prevent competitor sabotage. Monitoring reviews and returns is one of the most reliable ways to spot someone trying to take advantage of your business and avoid your ASINs being taken down due to trigger words. Being proactive with your product and company reputation is a sure-fire way to avoid account closures.
Maximize Impact
To understand profitability, it's critical to deepen your analysis before you commit to certain products in your Amazon FBA business. Using unit economics to understand your revenue, profit, costs and profitability of each specific product on a per-unit basis will allow you to see the full picture and consider all variables. From there, you can break down your products based on the 80/20 rule. For every product in your top 80/20, ensure you're never going out of stock and will not be suspended.
Additionally, considering returns is another crucial element in optimizing value. An ideal return rate should be determined, and returns should be reviewed quarterly. Often, you'll notice SKUs that exceed your return rate and may not be worth sending into FBA, and you will need to make adjustments as necessary to avoid additional fees. However, to avoid negative feedback and returns, you need to set the proper customer expectations in the PDP. For example, if you're launching a new lightweight pajama, make sure you are using enough descriptive terms for the customer to identify that they are meant to be lightweight and thin, and avoid receiving reviews stating the fabric is "too thin".
We went, we learned, and we are implementing. To think big, you need to consider all the variables that could hold you back or lessen your impact and make changes to optimize your results. Innovating with ad dollars to drive traffic, enhancing content effectiveness, protecting your business, and maximizing your profitability can help your business expand and your sales soar. Our team is looking forward to testing and implementing some of our takeaways to remain ahead of the market and stay agile in an increasingly competitive space.