As you might have heard, Blue Wheel merged with Retail Bloom — and this powerhouse duo are now merged under the name Blue Wheel, forming a top omni-channel digital commerce agency. Now, Blue Wheel is truly an omni-channel agency, servicing brands from click to ship.
Part of that omni-channel nature is embracing the synergy between brands' DTC and Amazon efforts. While many brands have historically viewed these two sides of the business in separate vacuums, the future of ecommerce is viewing all sides of your business together.
News to you? Read on to discover how to find the synergy between your DTC and Amazon businesses in order to provide the best experience for your customers.
A Brief History of Ecommerce
Amazon started in 1995 as an online book seller. Then in 1999, they began selling in multiple countries and expanded into different categories. The Amazon of the 90s would be almost unrecognizable compared to the Amazon of today—but they revolutionized ecommerce from the beginning.
Shortly after the launch of Amazon came the rise of advertising. In 2005, Google AdWords became available to brands to run Pay-Per-Click campaigns. In 2006, Shopify enters the ecommerce market, which marks the birth of DTC. Facebook ads became available in 2007, and Amazon launched their advertising program, Amazon Media Group, in 2012.
Lastly, in 2016, TikTok was born and released to the public. Although this app is relatively new in the history of the digital world, it has made a significant impact on brands' ecommerce strategies, which we'll discuss in length later in this post.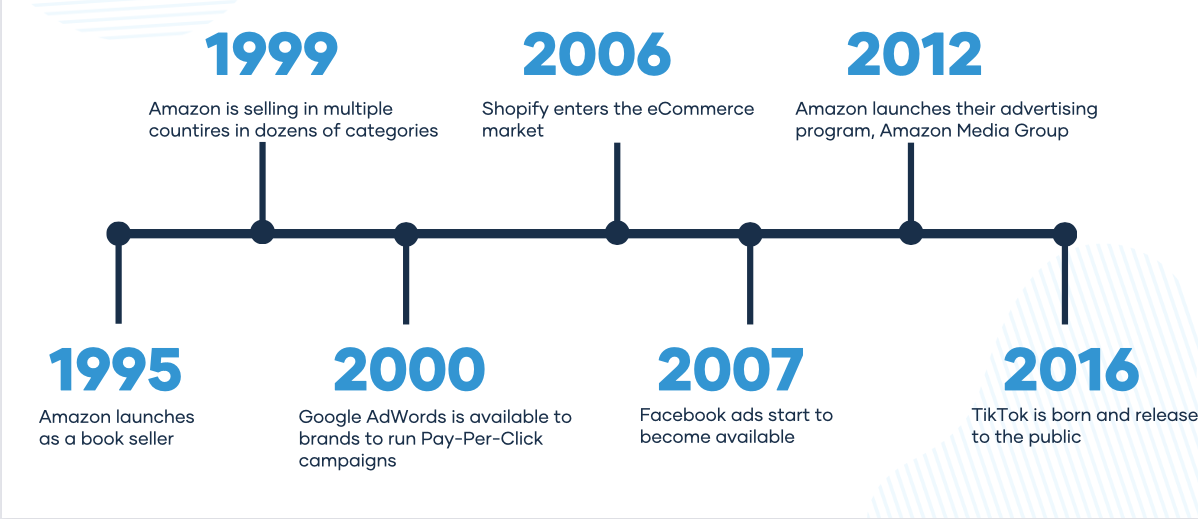 The Great Digital Marketing Divide
Historically, Amazon and DTC have been seen as separate silos. Brands who sell on both these avenues typically view them as totally separate sides of their business. They set budgets, set goals, run promotions, set budgets, and analyze performance reports separately for Amazon and DTC. There's no overlap. From influencer marketing to inventory, the two sides of their businesses are essentially run separately.
Because of this, the results of each side of the business are almost pitted against each other. If ROAS was higher on Amazon than DTC, brands might be tempted to put all their eggs in the Amazon basket and stop advertising on DTC—or vice versa.
The truth is, brands have a digital ecosystem, which is what the team at Blue Wheel have found to be successful. Instead of a divide, we see Amazon and DTC becoming one. We see brands supporting both efforts collectively, from promotions to inventory to product launches. This is how your brand will grow. This is the future of ecommerce (especially with increased privacy concerns such as the iOS14 update).
These departments don't have to fight against each other. You can reallocate budgets.
Amazon Source Demographics

As you might expect, 64.3% of Amazon customers come to a Product Detail Page directly from Amazon, either through a search result, brand store, or other PDP.
However, 36% of Amazon users going to PDPs come from offline sources. These users are not simply going to Amazon.com and shopping via the search feature — they're coming from search on Google and other sites, social media, direct links from influencers, and more!
This means that Amazon customers are looking for products on other channels and ending up on Amazon. To the customer, it doesn't matter where the product is; your brand's role is to help them have a consistent experience no matter where they buy.
Amazon and DTC
Based on this data, we can see that your Amazon and DTC businesses are not in competition with one another. They're now both contributing towards the same goal (aka your business goals!).
Relationship between DTC Spend and Amazon Revenue
We here at Blue Wheel have been closely monitoring the relationship between your DTC spend and your Amazon. There's a direct correlation between DTC spend and Amazon revenue — when you increase your DTC spend, your Amazon revenue increases as well.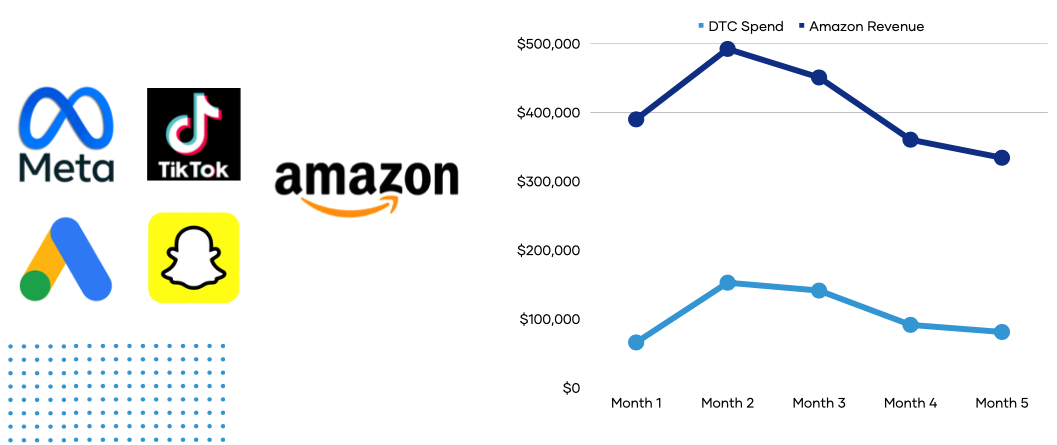 If you look at your DTC and Amazon as competing against one another, you won't have this positive viewpoint. When you're looking at growing your brand, it's important to see DTC and Amazon as complementary!
When you view your data in this way, we don't recommend focusing on ROAS or ACoS one-to-one. If you see you're getting new customers to your site, and Amazon sales are also going up, and new-to-brand sales are also going up, you should be looking at a different metric than direct ROAS. If you're expecting to see the same return on Amazon and DTC, you'll be disappointed. (More on this later!)
Lifecycle and First-Party Data
One of the drawbacks to selling on Amazon is not having the same visibility to first-party data as you do on DTC. And, as we enter a cookieless world, you will want to have as much first-party or zero-party data on your customers as possible.
Utilize your traditional DTC channels and encourage your customers to sign up for your email list. You can then send emails to your customers directing them to shop your products on Amazon, alerting them about your Prime Day deals, and notifying them of products that are back in stock. To this end, you can have one macro product calendar and budget for all aspects of your business. This will help you better understand what's going on in your omnicommerce world.
On Amazon, you're limited by the levers within that channel (coupons, advertising, etc.) — many of which you have to pay for. However, when you leverage your existing marketing efforts to promote your products on Amazon, you can direct traffic there to help you meet your goals, whether you want to gain reviews or move through inventory.
73% ecommerce sales on mobile, so promoting your Amazon products via email is a great way to drive sales, as most people now shop and use email on their phones. However, 1 in 3 shoppers prefer texts to emails, and 73% have made a purchase as a result of a text, so utilizing SMS marketing is another great way to drive Amazon sales.
DTC and Amazon: A Case Study
We've been working with Voloom and integrating ourselves into their entire business. We help them with their DTC and Amazon marketing, email and SMS marketing, and influencer marketing. We had historically looked at channel-specific ROAS individually for each channel (email, advertising, etc). However, once we started looking at marketing efficiency ratio (MER), we saw a 102% increase in topline growth across the board in 2023 year to date, year over year.
To calculate MER, you simply divide your total revenue by your total investment. The result is your MER, which gives you a bigger picture of how all of your advertising efforts are affecting your total business.
In addition to that 102% increase in topline growth, we achieved a 3.92x MER over 12 months across marketplace, retail, and dotcom. We also achieved 40% scalability in paid media over 12 months across marketplace and dotcom.
By allowing our budgets to become fluid, we were able to help Voloom grow and be agile in their reallocation of advertising budgets. We can't wait to see what the future holds for them!
How to Combat Amazon Hesitations
So what if your manager or CEO isn't all-in on Amazon yet? What if they don't want you directing traffic to Amazon because your profitability is lower there? We have a couple solutions.
Improve your profitability on Amazon. Whether you're 1P or 3P, ask yourself: are you losing margin because you're not able to reconcile shipments or shipbacks? Are you losing margin because your retail price isn't as high as it should be? Look at your Amazon expenses as a percentage of your revenue and make that as efficient as possible.
Customers are going to purchase wherever they want anyway. Regardless of whether or not you direct your customers to Amazon, they're going to shop for your products there anyway. And if you're not selling on there or don't make it easy, you're creating friction in the customer journey and limiting your growth long term. It's worth testing — try driving customers to Amazon for one promotional period and see what happens!
Amazon and TikTok
The hashtag #AmazonMustHaves has 17.1 billion views on TikTok! With this much traction on the app, your brand's goal should be to get on as many For You Pages (FYP) on TikTok as possible. The FYP is curated based on what you're engaging with, so your videos are more likely to get placed in front of people who are interested.
TikTok Demographics
TikTok is aging up! TikTok is full of Gen Z users, but there are people over the age of 20 on the app! Every day, it's getting more age diverse. Over 60% of TikTok users have purchasing power, so your target market is most definitely using the app — no matter your demographic!
And the best part is, the cost-per-follower on TikTok is crazy low right now, anywhere from $0.75–$1.75. You can get qualified followers for a more affordable rate compared to another app like Instagram.
We here at Blue Wheel really invested in TikTok for our own brand, and we were able to grow our following from 0 to 100K followers in less than 6 months.
Prime Day 2022 TikTok Push
In 2022, the hashtag #AmazonPrimeDay had 255.2 million views, and #PrimeDay had 685 million views. Amazon even got in on the action, by sending TikTok influencers boxes of products that would be part of the Prime Day sale.
Why wouldn't you want to have TikTok in your marketing plan for your Amazon products?
Investing in TikTok marketing is a great way to build your brand, including your Amazon business! Especially during Prime Day, you have the opportunity to gain new customers and boost your sales through TikTok.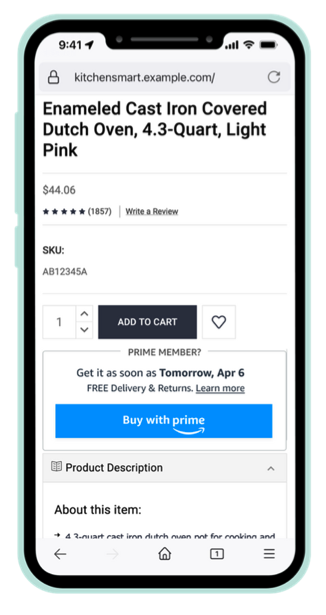 Buy with Prime
Buy with Prime is a relatively new development in Amazon history, but it's been impactful for brands who are looking to holistically grow their omnichannel business.
How it Works
Here's how it works: on your DTC website, you can place the Buy with Prime badge, which allows your customers to check out on your DTC site but buy through Amazon Prime. The inventory comes from Amazon's fulfillment center, your customer can easily purchase through their Amazon account, and you get to own their customer data. And there's no minimum volume requirement to get started!
From a customer perspective, it's easy, trustworthy, and familiar. They get free two-day shipping and easy returns, and early results are showing an increase of up to 25% conversion just by having this badge on the website!
From a brand or merchant perspective, you are now able to use Amazon fulfillment centers to fulfill orders for DTC side of the business. You also drive more traffic and new customers to Amazon but still get to record that new customer data, so you can retarget them to drive them back to your site. (When you sell on Amazon, you don't have access to that customer data.)
Sync Reviews
One other benefit of the Buy with Prime program is that Amazon now allows you to sync your Amazon reviews of your product to your DTC website! This is a huge development, as Amazon reviews have become a primary way customers determine whether or not they'll purchase.
Amazon has not released a feature yet where you can sync your DTC reviews to your Amazon PDPs, but this is still a huge development! Amazon has historically been very protective of their reviews, so this release is big news.
Our Blue Wheel team is still testing to see if this syncing drives conversions, but it's a great opportunity for product launches that you start on Amazon and then launch on DTC. You can have those positive Amazon reviews when you launch on DTC!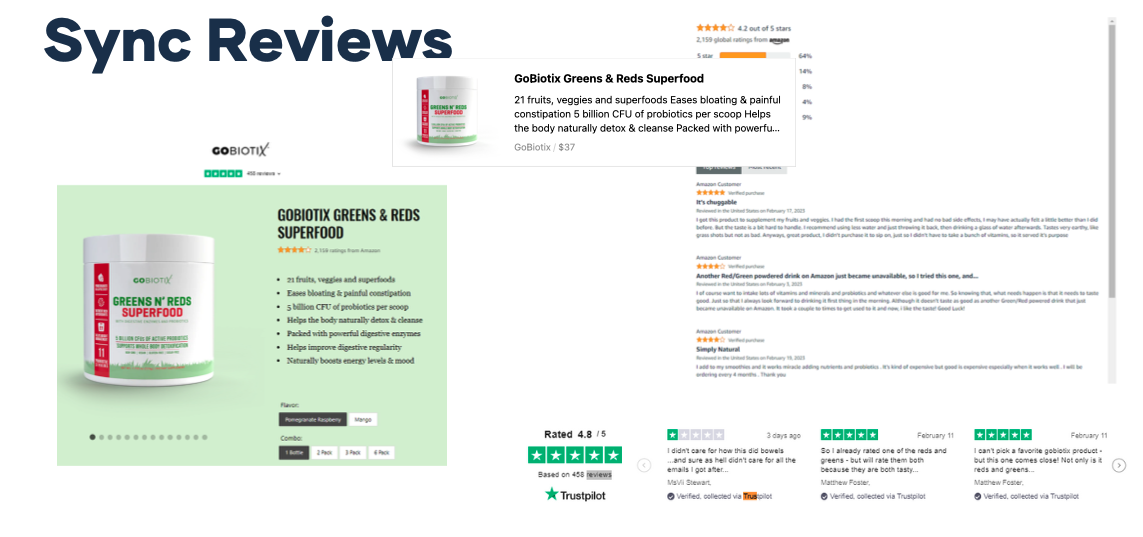 Want help navigating the world of omnichannel? Reach out to Blue Wheel today!