In a digital-first world, your creative needs to match. There are so many platforms to use your creative content on, and it can be overwhelming to even begin thinking about where to begin.
At Blue Wheel, we have a unique philosophy for producing creative content for our clients — and we're sharing the tricks of the trade with you today. From concept to implementation to execution, here is how we create creative content for the omni-channel era.
Traditional vs Digital-First Creative
Before we dive in, let's look at the difference between traditional productions and digital-first productions.
Traditional Productions
Traditional products are, well, just that — traditional. They're planned with one overarching concept or campaign in mind, and have the goal of building brand equity. So, there is a single concept that is then cut down into longer- and shorter-form content, but with one specific output or platform in mind.
An example: a legacy beauty brand creates a production, and they will use that content only for a CTV ad.
Digital-First Productions
Digital-first productions, on the other hand, are created for use in multiple omni-channel efforts across multiple channels. It assumes a full-funnel strategy approach, capturing different kinds of content to fill in the marketing funnel and guide the customer along the purchase journey.
Digital-first productions are performance driven, analyzing data, performance, conversion, and metrics for each channel. Analyzing these main KPIs allow you to judge the performance of the content. Lastly, digital-first productions focus on the benefits of a product, rather than focusing on general brand equity.
An example: a beauty brand starts a production for a specific product launch, and they're able to edit that content for various audiences, channels, and testing purposes.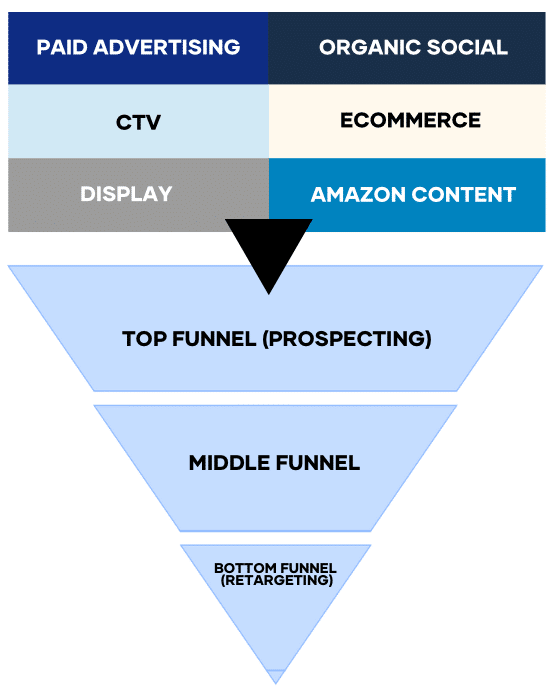 Omni-Channel Approach
Adopting an omni-channel approach allows you to create content that can be used across organic social, paid social, Amazon ads, CTV, and more. Thinking omni-channel when capturing or repurposing content can be more cost effective for your brand, and also provides a seamless experience for your customer.
These efforts can then translate into a full-funnel approach utilizing different content that performs in different channels and parts of the marketing funnel — so you get the most bang for your buck.
Channels
Thinking omni-channel is not just for advertising, but for all marketing efforts! It's critical to understanding what type of content performs well on what platform based on best practices.
Meta Advertising
Sound off native (text on screen and captions)
Gathering thumbstoppy assets that capture attention
Video and moving content perform well
Photography, GIFs, short-form videos
TikTok Advertising
Sound-on assets
More focused on trends or content that adds value to the customer
Can also follow traditional Meta Ad content
UGC style works very well vs more polished traditional productions or photo/GIF content
YouTube Advertising
Sound-dependent assets that need to usually qualify viewers to watch
Many ad types available
Depending on the ad type, you might have more time to hook a viewer
Can be more narrative in nature or similar to Meta-style ad
CTV Advertising
Sound-dependent assets, so audio is important
Need to capture viewers' interest to leave an impression but have their attention — they cant skip past ad!
Can have a longer-arching narrative or be more similar to other digital advertising (Many brands are testing Meta Style Ads!)
Meta Organic
Sound-off native
Product and lifestyle photos, GIFs, video clips
Infographics and benefits outlined
Content focused around holiday, launches, or events
TikTok Organic
Sound-on assets
More focused on trends or content that adds value to the customer
Evergreen content about the brand or product benefits, focusing on value for viewers
Marketplace
Sound-off native.
Listing and Brand Store — product and lifestyle photography
Advertising — similar to Meta content, except you have more of a customer focus since they are looking for a specific product
E-Commerce Retailers
Design for sound on and off
Clear product demonstration videos, brand anthem videos, product and lifestyle photography
Demonstration and anthem videos are really great for Amazon as well
Full-Funnel Creative Strategy
When you enact a full-funnel creative strategy, you're thinking about it from an awareness, consideration, and conversion standpoint. 
We're sharing the types of ads we've seen work within each of these funnels, but of course changes within how the back-end groups these on an advertising end can change! (If you're confused, ask your Blue Wheel strategist for more information.)
Awareness
Purpose: Brand recognition
Content Types that Perform Well:
Product intro videos
Explainer video
Spokesperson
Snackable moments
UGC
Brand anthems
Consideration
Purpose: Building credibility
Content Types that Perform Well:
Problem/solution
Unboxing
Test and comparison
UGC
Reviews and press
Conversion
Purpose: Converting!
Content Types that Perform Well:
Promo messaging
High amounts of CTAs
Dynamic product ads

Data-Driven Metrics
Digital-first creative focuses on performance-based metrics. Your KPIs will be different based on your brand and goals within your specific marketing funnel.
Using different data points can help you dissect what is and is not working within your individual creative assets. You will want to look at your performance of assets as a whole with data like Ad Spend, MER, CPA, and ROAS. Let's take a look at each of these metrics in a little more detail!
Engagement
Likes, Comments, Shares and Follows
These metrics show what kind of assets add value to your customers and what they want to engage with.
This can be seen organically or based on performance of boosted social posts.
ROAS
Return on Ad Spend
This will tell you what ads are overall working
ROAS is a good first marker to look at, but depending on creative strategy will only give you part of the story about your creative performance
Thumbstop %
Thumbstop Rate
This metric will show how effective your copy or creative is at capturing first attention
A low thumbstop means customers didn't want to pay attention to your ad
CTR %
Click-Through Rate
This will tell you how effective your creative is at getting your audience to perform an action.
High thumbstop with a low CTR means you grabbed their attention but something within the video didn't make them want to click out
Dissect what within the video didn't align with the thumbstop or might be causing customers to not click
CVR %
Conversion Rate
This metric shows what rate people are purchasing
A high CTR and low CVR could mean there is an issue in ad alignment with actual product (website, price, misleading ad, checkout process, customer checking out more info, etc.
What about the click-to-purchase process was bottlenecked, and how can the creative make that process more successful?
Thumbstop
If you focus on your thumbstop rate first (aka stop the scroll) without capturing view within the first 3 seconds, you lose the chance to get customers to follow through with a desired action.
So how do you get people to stop scrolling the content overload on a daily basis? What makes a good thumbstop? Here are some of our creative team's tried, tested, and true thumbstopping content:
Problem / solution
Shocking or bizarre
Interesting product demo
Oddly satisfying
Value proposition
Authority or credibility
Expressive faces
Builds suspense
Benefit-Focused Creative
Digital-first creative focuses on the unique selling points and value proposition of your brand or product and looks to bust the barriers of why a customer wouldn't want to purchase your product or service.
As the stakeholder of a brand, you can become a big cheerleader but in the process miss some selling points the customer values (not you). Talk to friends, family, and customers to crowdsource what some possible barrier to purchase would be.
Then, you can focus on the specific benefits of your product and address concerns before your potential customer can even think of them.
Let's look into some ways you can develop creative that is benefit-focused.
Unique Selling Points
What is different about your product or service from others in the market?
Why would the customer choose your product or service over another?
Why would a customer care about your product?
Value Propositions
Clearly communicate the product or service benefit you promise to deliver to your customers
Share the results customers will get from your product or service
Bust Barrier
Reduce pain points and friction of purchase
Overcome a reason why a customer wouldn't want to purchase your product or service
Repurposing Traditional Content
If you're not quite ready to take a full dive into digital-first content — or your budget doesn't allow for it at this moment — you have a few options for how to move forward and create content that converts.
Use What You Already Have
If you have assets from previous campaigns or shoots, you can repurpose them for digital ad content! Utilize product images, e-commerce images, previous photoshoots, video shoots, UGC content, etc. in your ads to make the most out of what you already have.
Frankenstein Content
This isn't as scary as it seems! Frankenstein content just means mashing content together in a way that creates something new. Whether you choose to edit a video clip differently, combine campaign creative, or test different product shots, you can use what you have and combine it for a great result.
Thumbstop As Its Own Content
Think of how you can create more interesting thumb stopping content just for the sake of a thumbstop! This can be separate from the ad, as long as it relates to the purpose. It doesn't have to showcase your product, but think of it as its own kind of content catching somebody's interest.
Repurpose, Then Plan New
Start by utilizing what you have before planning digital-first creative productions. This helps you get a feel for what performs well in your account and to your audiences, allowing you to better plan a digital-first creative production when budget and time allows.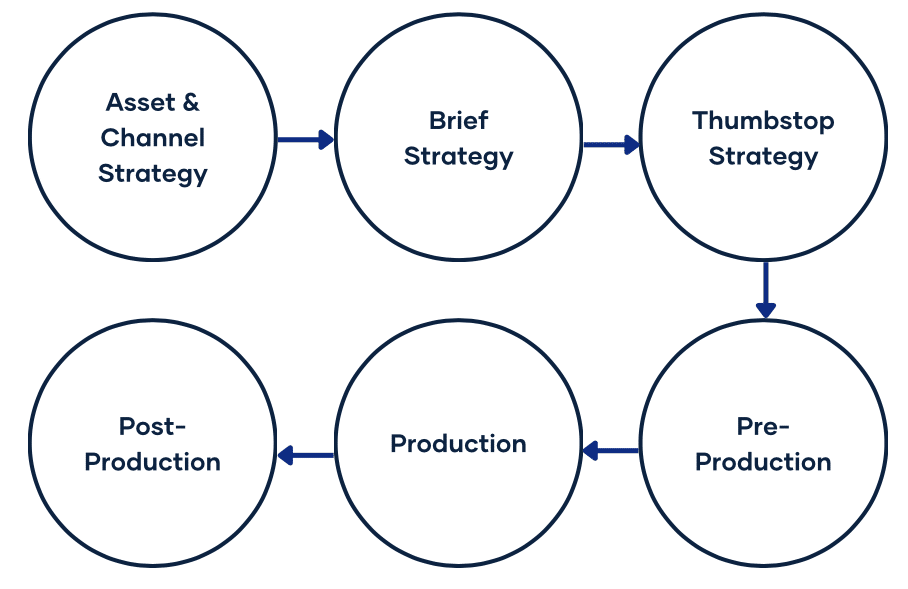 Get the Most Out of Your Digital Assets
When you're planning a digital-first production, you might be a little overwhelmed with the amount of coordination that goes into a shoot like this! (Which is where a content creation agency like Blue Wheel can help.)
Here are some guidelines to getting the most out of your digital assets.
Planning Productions
In a traditional production, you would have a campaign concept and funnel that down into the assets and not think about what specific channels you'll use those assets on. In a digital-first production, however, we develop an overarching idea of what we want to show, but we also think about the different assets we need to create (photos, videos, GIFs, etc.) and what channel we need them for (Facebook, TikTok, YouTube, etc.).
Asset & Channel Strategy: Plan the assets you want to capture to derive the most assets for different channels.
Brief Strategy: Outline what you want to test.
Thumbstop Strategy: Think of the thumbstop and attention-grabbing content you want to test. Gather more content for future testing and iterations.
Production: Plan your productions around content that can be repurposed in many ways. Gather more than you need if possible.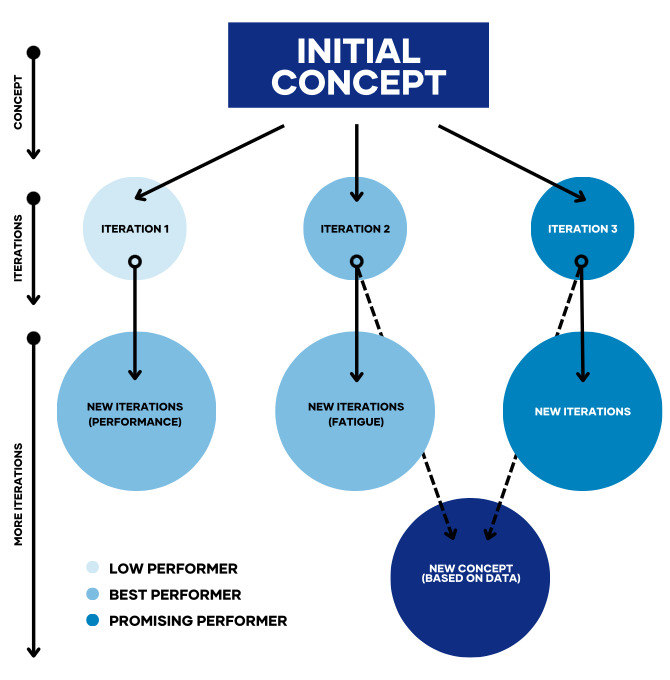 Our Testing Approach
A/B testing is a hot topic among brands — many want to test, but don't know exactly what they're testing or how to test. It's much more complex than just running two ads simultaneously and seeing what sticks. Here at Blue Wheel, we take an iterative approach.
Iterative Approach
An iterative testing approach utilizes data and creative learning to create assets that are proven to perform and optimize your brand's efforts in new customer acquisition and retention. Identifying primary creative pillars and creative strategy is the key to knowing how your assets will perform.
Go Broad
Brands with less monthly spend can leverage this testing model by creating iterative edits off past assets based on data. This saves on cost and helps you narrow in on what works for conversion.
This can be good for brands just starting out with little performance data or new product launches. If you have a low budget, having a phase testing approach is great. Roll it out slowly to see how it performs, get the creative data back, and then go back to that same content and re-tool it based on that data.
Fine Tune
Brands with higher monthly spend can do iterative testing within ad sets to fine tune what is and isn't working for conversion for customers. These smaller changes take less of the interpretation out of the creative data. If you have the time, budget, and bandwidth to take on this approach, we highly recommend.
Testing Approach Recommendations
Make educated guesses but let data pick the best performer
Using data to fine tune results
Let iterative testing do the hard work
Test content across the marketing funnel
Brand first doesn't always win! Sometimes using things that feel off-brand can work and perform better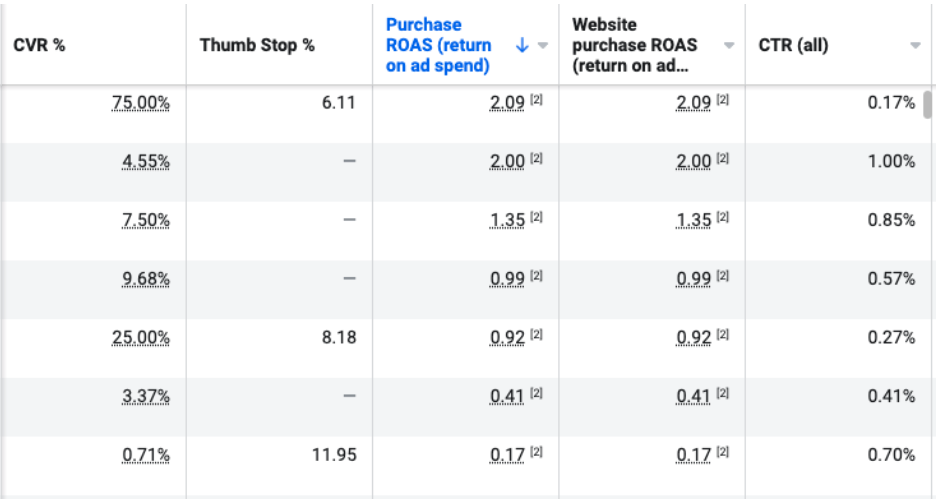 If you're interested in having a creative team manage your productions and advertising from start to finish, look no further than Blue Wheel. Fill out the form below to get started!