Somehow, we're already nearing the Holiday sales season of 2023. Amazon has recently released some of the official deadlines for shipments to arrive at their US fulfillment centers for their Prime Big Deal Days Event as well Black Friday and Cyber Monday. Start preparing now to ensure you're fully stocked and ready for the upcoming Holidays!
Start Sending Your FBA Shipments Now
With deal events starting as early as October, it's important to start sending in your inventory now to prepare for the Holiday sales jump. In our experience, it generally takes at least 7-10 days for shipments to reach Amazon's fulfillment centers and become available for sale. We recommend sending in your shipments at least 2 weeks before the deadline to guarantee the units are live on Amazon in time.
The official FBA shipment deadlines include:
Prime Fall Deal Event: September 12
Black Friday and Cyber Monday: October 26
How to Send FBA Shipments
Using the menu in Seller Central, navigate to Inventory > Shipments > Send to Amazon. From there, click "Start New" and create your shipment. Check out our previous Marketplace Update article for more details covering Send to Amazon!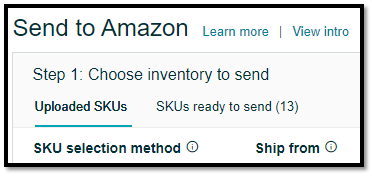 Strategizing a Successful Holiday Sales Season
When figuring out what products and which quantities to send to Amazon, there needs to be a proven strategy in place to expect great results. Sending in products at random (and in amounts that just "feel" right) tends to always lead to disappointing results. If you need a team who specializes in Inventory Management, our team of Inventory Experts at Blue Wheel is here to help achieve your goals!