If you've visited the Listing Quality Dashboard lately, you've probably noticed the new Potential Sales Lift metric starting to appear next to your ASINs. 
Recently, Amazon announced the new metric – now, sellers can gain insight into specific missing attributes, along with an estimated increase in sales for the next 30 days.

What is the Listing Quality dashboard?
The Listing Quality Dashboard, according to Amazon, helps sellers "Identify and fix listing issues affecting discoverability, detail page experience, and customer returns". Sellers can use the dashboard to find blank attributes within your catalog, making enhancing content easier.
Search by SKU, ASIN or Product Name, filter by Listing Status (Active, At-Risk, Suppressed) and Sort by Sales, Available ASINs, Page Views and Amazon Recommended. On top of this, you can filter by Recommendation Type: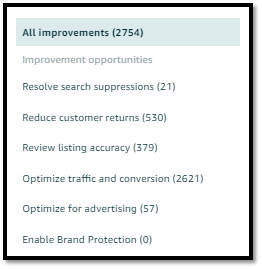 Once you narrow down on the ASINs you want to investigate, the dashboard provides Product Name, ASIN, SKU along with the metrics: Sales, Available to sell, and Page Views.
Leveraging sales using the Potential Sales Lift feature
Before the Potential Sales Lift feature, Sellers were making edits without knowing where to really start. Now, Sellers can make an informed decision based on the potential sales increase on where to prioritize their time. If you want to make changes to multiple ASINs at once, we recommend using the Add missing attributes in bulk report.
With the constant updates in online marketplaces, it's important to stay up-to-date with the latest changes. If you are a client looking for additional information, contact your strategist or if you are interested in learning more about how Retail Bloom can assist your brand efforts in online marketplaces, schedule a consultation with our team. 
For more updates on marketplaces, visit our full Marketplace Updates content gallery.