There was an update to Amazon's North American shipment guidelines on November 2, 2021.
On November 2, Amazon announced in Vendor Central that there was an update to their North American shipment guidelines. If you have a Vendor Central account, and are sending your product to Amazon Fulfillment centers, it's best practice to review the entirety of the guides to ensure your business practices align with Amazon's policies.
Breakdown of Q4 Updated Guidelines
Fresh Vendors should submit their GTIN Gold List Library to

[email protected]

: If you participate in Amazon's Fresh Vendor program, you must now submit your GTIN Gold list to the email above.
Vendors to affix "Team lift" Heavy object warning label on the cartons weighing more than 30 pounds: If your cartons are heavier than 30 lbs., you must now start placing a warning label on each carton. This may result in needing additional staff, or at the very least, setting aside additional time to allocate towards ensuring your cartons have warning labels.
Mandatory for vendors to provide Postal Code information in the ASN (Advanced Shipping Notice): When sending your pallets/cartons to VC, adding the Postal/Zip Code to the Advanced Shipping Notice (or ASN) is now required, not optional.
Product Restrictions and Prep Instructions:

 
"Bagging" is defined as items (books) that are 100% sealed in "sturdy" plastic.
"Bubble Wrap" is defined as tightly wrapping the book with at least 2 layers of wrap, and ensuring that it's fully covered, and cannot fall out. Be sure to place the barcode/UPC Code on the outside of the wrap, so it can still be scanned easily.
"Boxing" is defined as books that are individually boxed as shown:
If your book is greater than 10 lbs., you must use a double-wall corrugated boxes, which is a thick, double-layer of cardboard. This will help make sure the book remains in good condition until it reaches the end point (the customer)
Incorporated changes for cap seal launch and updated ASIN sticker information
Liquid Seal Matrix
There is now a Liquid Seal Matrix provided by Amazon.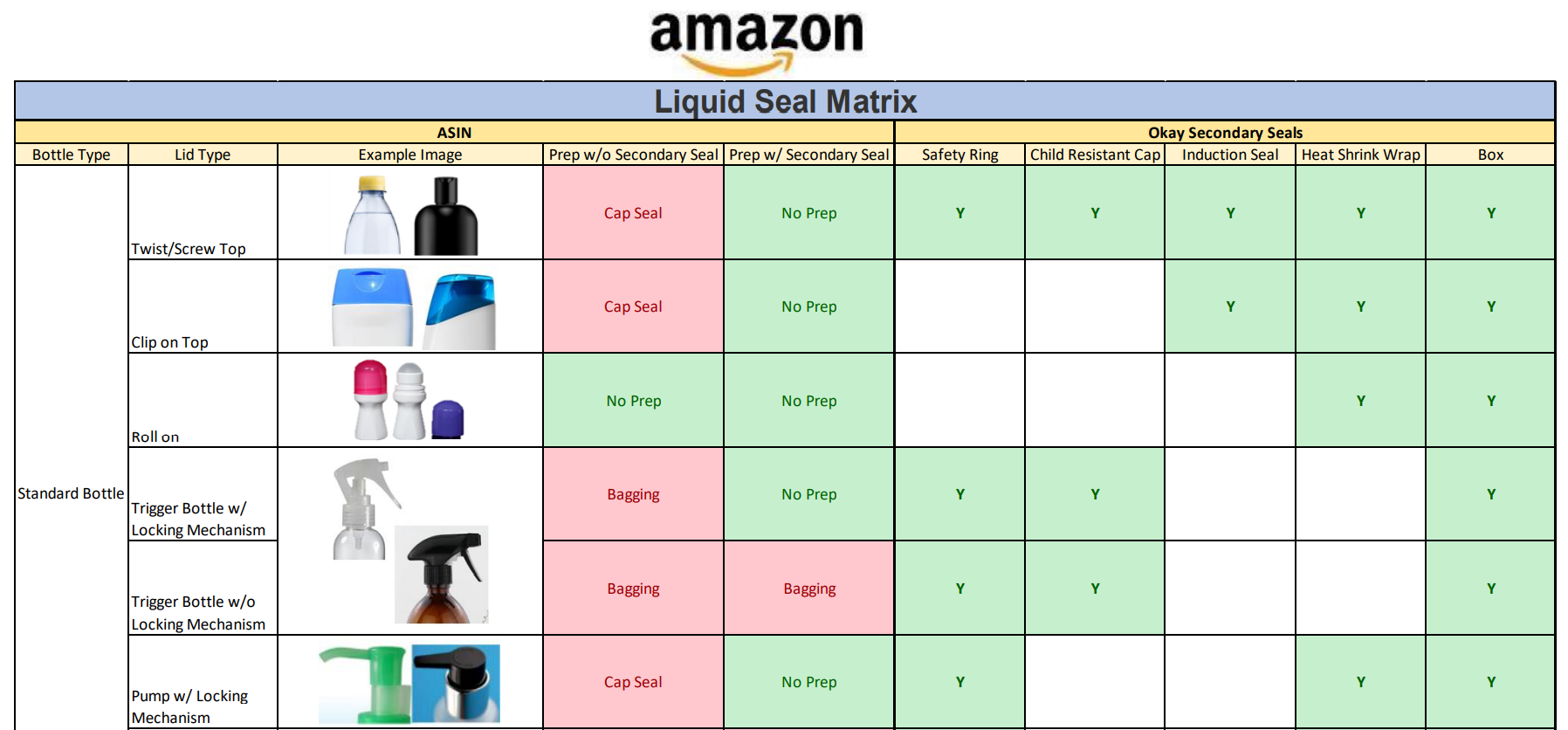 This chart breaks down exactly what type of seal is required depending on the product packaging type. If you are selling liquid products, it's a good idea to review the chart, and ensure you are following protocol. For the full matrix, see page 19 of the Product Restrictions and Packaging (Prep) Instructions manual. 
As for ASIN Stickering, "all product sets with the phrase "Bubble wrap/bag", "ASIN stickering" in the prep instructions, a barcode label must be added to the outside of the packaging."
This means if your product applies to the update (see above & review the full guide for more info by downloading it directly from the help page) - you must start labeling your product on the outside of the wrap for ease of fulfillment.
If you have any questions regarding these updates, our team of experts at Retail Bloom can be of assistance. Contact our team here.
For more updates on marketplaces, visit our full Marketplace Updates content gallery.