Whether you're selling via brick & mortar or online, all Brands (big or small) are at risk of counterfeit versions of their products being created and sold. What can brands do to avoid this and how can they take action to stop it? The Transparency program is Amazon's Anti-Counterfeit tool for Sellers and Vendors.

What is the Transparency Program?
The Transparency program was created to help prevent counterfeit items from being sold on Amazon.com. The program requires brands to print a unique QR Code directly onto products at the time of production. If your product(s) are enrolled in Transparency, and QR Codes aren't being provided as orders are placed, Amazon will catch on and close the listing.
On top of the anti-counterfeit piece, Amazon is beginning to shift towards using Transparency as a Customer Engagement tool as well. Sellers can now use the program to provide instruction manuals or additional product details using the QR Code, creating an enhanced customer experience. This goes beyond just creating optimized content and the A+ Page. It allows brands to continue telling their story to customers post-purchase, in a way that is totally compliant with Amazon's policies!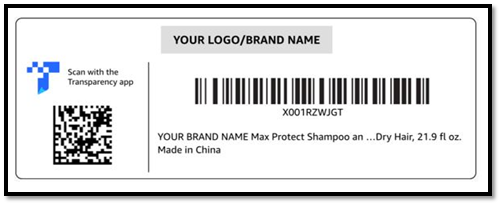 How Does Amazon's Transparency Program Work?
To enroll, visit the Transparency program page on Amazon's Brand Registry Website and click Get Started. Selling Accounts can enroll whether you sell FBA or FBM. To be a part of the program, you must meet the following requirements:
You must be the brand owner.  
Your Products must be enrolled in your Brand Registry account.
Each Product must have a Global Trade Item Number (GTIN).
Must print unique Transparency codes on every unit that is sold on Amazon.com.
July 2023 Update: Amazon is now giving away 20,000 free Transparency codes for each new product enrolled in the program before December 21, 2023. If you've been thinking about getting started with Transparency, now is a great time!
Who Benefits from the Transparency Program?
Brand Owners who qualify and are dealing with counterfeit and fake versions of their products getting sold on Amazon would greatly benefit from the program. Aside from just that, having your products enrolled will lead to a more interactive customer experience. As society slowly shifts to utilizing QR technology on a more frequent basis, Brands will need to learn to adapt. Becoming a part of Transparency would allow brands to stay ahead of the curve.
If you're a client looking for more information, contact your account team! If you're interested in learning more about how Blue Wheel can aid in your brand efforts in online marketplaces, schedule a consultation with our team, we would love to hear from you.