On January 14 Amazon announced that in 2022, all Sellers with professional Selling Accounts will benefit from the Call Me Now support Feature.
The Call Me Now feature button can be found on the Account Health dashboard at  the top right corner.
Account Health
Here, you can access specialized Account Health support any day of the week. Whether you just have a quick question, want advice with a Plan of Action, or you're unsure why your metrics have gone below the threshold, the Call Me Now feature can help with almost any account health-related issue.

By the end of the year, 100% of professional selling accounts will have this feature. To check if you have the Call me Now Feature, navigate to Performance > Account Health. If you don't see the button, it's a good idea to contact your Account Manager or open a ticket with Seller Support and ask when you can expect to get it.
When you click Call Me Now, you will have to complete a security challenge to verify you're human. Then, choose your country, type in your phone number, and provide a short description of the issue you are calling about. In general, within seconds, you will receive a call and be connected to an Agent.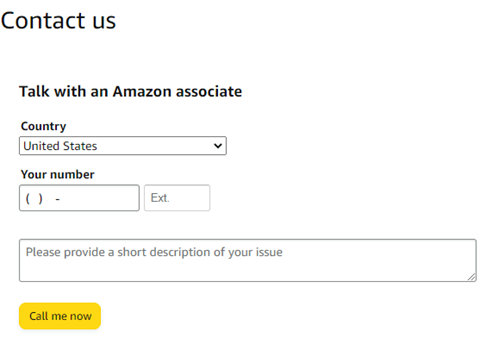 This feature helps simplify the process of monitoring your account health by answering your questions and providing instructions directly from Amazon. Only relying on reading through the Help pages can sometimes leave you with more questions than you had at the start. Speaking with a specialized rep can help improve your understanding of Amazon policies and issues you are seeing in your account.
Call Me Now Button
We recommend taking some time to check if your account has the Call Me Now button, and if so, start using it to help you figure out and resolve any outstanding policy violations or other Account Health-related issues.
With the constant updates in online marketplaces, it's important to stay up-to-date with the latest changes. If you are a client looking for additional information, contact your strategist or if you are interested in learning more about how Retail Bloom can assist your brand efforts in online marketplaces, schedule a consultation with our team. 
For more updates on marketplaces, visit our full Marketplace Updates content gallery.