Customer reviews have always been a unique and integral feature of shopping on Amazon. Believe it or not, there was a time when customer product reviews were a foreign concept. In today's world of ever-increasingly sophisticated AI, Amazon has released AI-generated product reviews for mobile viewers.  
What Are AI-Generated Amazon Product Reviews?
AI-generated product reviews are now being shown on many product types for mobile viewers. Amazon says they plan on expanding the concept into more categories in the coming months, so if you don't see it on your product pages yet, don't worry.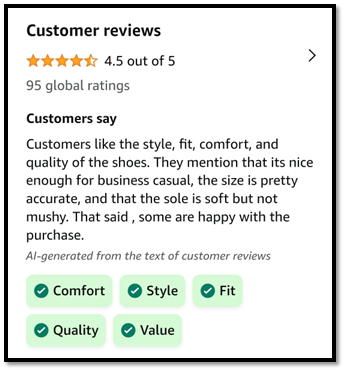 The AI-generated review displays as "Customers say" and it highlights the most common points being made in customer reviews. Under the review, you can click on the top-mentioned keywords to get even more details.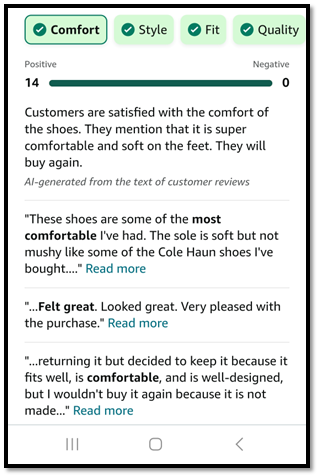 How Can AI-Generated Product Reviews Impact Conversion Rates on Amazon?
Many shoppers don't have time to read through dozens of reviews and will rely on AI-generated reviews to do the research for them. Mobile Amazon shoppers can get a quick and easy overview of product reviews with the AI-generated "Customers Say" reviews. Due to this, we can assume that AI-generated reviews will have a higher impact on conversion rates compared to regular customer product reviews.  
Improving Your Product Review Rating on Amazon:
It's important to strive for great product reviews on Amazon because of how heavily they impact sales due to their influence on the consumer's perception of your brand's products. It's important to consider that there could be a genuine problem with your products, leading to negative reviews.  
If you notice the same complaint (for example, customers receiving the wrong item) on multiple product reviews, don't just ignore it! Instead, get to the bottom of it by investigating internally and with Amazon Seller Support. Getting to the root of the issue and resolving it will drastically improve your product rating!
If you're a client looking for more information, contact your account team! If you're interested in learning more about how Blue Wheel can aid in your brand efforts in online marketplaces, schedule a consultation with our team, we would love to hear from you.