If you didn't have a chance to join Amazon Accelerate this year, don't fret, we're recapping our top three takeaways from the event. Although a lot was discussed during the two-day conference, some of the most anticipated updates were the new releases - no surprise there!  
One thing is for certain, Amazon is making big strides to improve seller experience with the help of AI.
AI Now Handles Amazon Customer Inquiries with Seller Messaging Assistant
Have you noticed fewer messages hitting your buyer-seller messaging portal lately? Don't be alarmed – Amazon's new Seller Messaging Assistant AI bot is handling simple customer questions at no cost to you.
Now, when customers have a problem with their order, the Seller Messaging Assistant first asks a series of questions which results in fewer messages hitting your Buyer-Seller messaging inbox.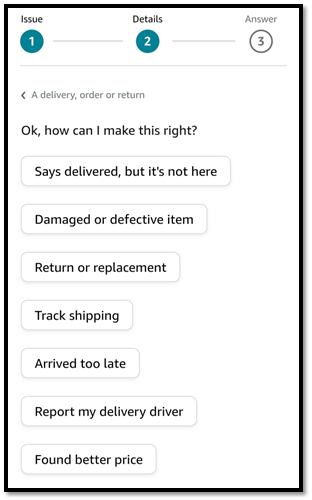 There's nothing sellers need to do to start benefiting – customers will automatically be prompted to interact with the Seller Messaging Assistant before they can contact the seller. If the Seller Messaging Assistant AI Bot is unable to find a solution/answer to your customer's concerns, at that point, the customer has the option to contact the seller.
Unlock Bulk Storage with Supply Chain by Amazon
A good supply chain is the backbone of a successful brand. With the Supply Chain by Amazon program, brands gain more than just access to trusted suppliers.

Unlock a complete end-to-end supply chain solution by combining Amazon's services (Amazon Global Logistics, Partner Carrier Program, Amazon Warehousing and Distribution, Multi-Channel Fulfillment, Fulfilled by Amazon, and Buy with Prime). In Amazon's words:

"With Supply Chain by Amazon, we pick up inventory from your manufacturing facilities, ship it across borders, handle customs clearance and ground transportation, store inventory in bulk, manage replenishment across Amazon and other sales channels, and deliver directly to customers."
To get started, use Amazon Global Logistics (AGL) to ship your bulk inventory to Amazon Warehousing and Distribution (AWD). From there, your bulk inventory is stored, and ready to be fulfilled as customers order.  
Soon, Amazon will also release Multi-Channel Distribution, which will allow sellers to move their bulk inventory to wholesalers and other storage suppliers.
Use Generative AI to Help Build Product Descriptions
Writing product descriptions is one of the most tedious tasks involved with building listings. Not only does that information need to be accurate and enticing – but it needs to also include the right keywords to rank organically.
Generative AI will soon be available for free in Seller Central to help sellers create captivating product listings. A handful of sellers already have early access, but for most, the feature has yet to officially roll out. Keep an eye out for the widget to pop up next time you're working on creating a product!
If you're a client looking for more information, contact your account team! If you're interested in learning more about how Blue Wheel can aid in your brand efforts in online marketplaces, schedule a consultation with our team, we would love to hear from you.