In this blog, we discuss the most important aspects of the new Amazon Sponsored Brand video ads, including:
What are Sponsored Brands Video ads?
What are the requirements of using these ads?
What can you learn from trying out Sponsored Brand Video with a dozen different brands?
What are Sponsored Brand video ads?
Amazon video ads have existed for years, but the new Sponsored Brand video ads seem to excite brands looking for clicks at a lower cost. They play automatically upon being viewable on the screen. They can be found on the bottom of Amazon's search results page on both mobile and desktop devices. Our research shows that they are more common on mobile devices as opposed to on desktop. Sponsored Brand ads typically promote multiple products at the same time. These new ads, however, can be set up to promote only one product at a time, making them more versatile and valuable to Amazon sellers.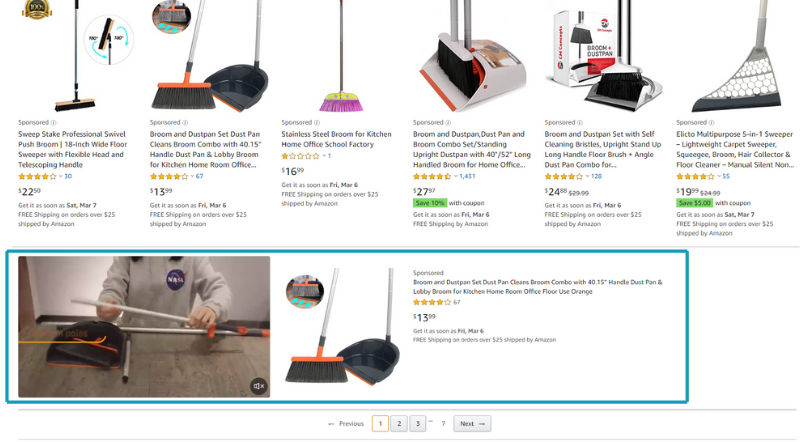 Requirements & Specifications
Video durationBetween 6 and 45 seconds. We recommend 15 to 30 second videos.Video dimensions1920 x 1080, 1280 x 720, or 3840 x 2160File sizeLess than 500MBFile format.MP4 or .MOVAspect ratio16:9Video profileMain or BaselineFrame rate23.976fps, 24fps, 25fps, 29.97 fps, 29.98fps, or 30fpsVideo bit rateAt least 1mbpsAudio formatStereo or monoIn-video subtitles30pts or larger, Amazon recommends san-serif fonts at 80pts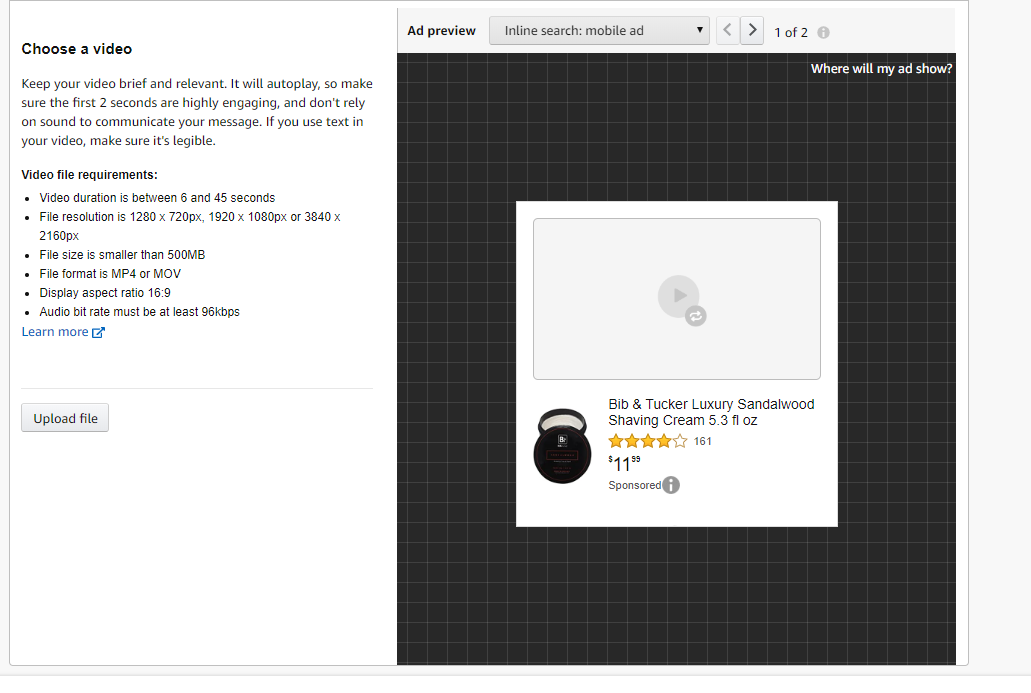 DO: Make sure that the Brands is active on Amazon's Brand Registry.
DON'T: Use black or empty frames at the start or end of the videos.
DON'T: Use any of Amazon's branding. This is prohibited because it can confuse shoppers.
DO: Include audio in all videos for a better shopping experience.
DON'T: Mention star ratings or reviews in video ads.
DO: Make sure that all ads are compliant with Amazon's creative acceptance policies.
DON'T: Use letterboxing/pillarboxing. Videos should not have bars on the sides.
The results of our research shows that...
The first 3 seconds of the video must be captivating to capture the attention of shoppers.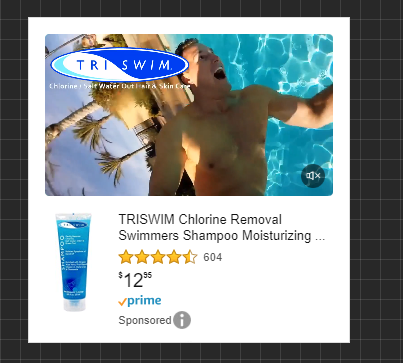 Brands should consider making video ads for products that are not performing well as image ads.
Sponsored brand video ads are great for affordable clicks and impressions.
Not all shoppers have their volume turned on. And videos autostart with no sound. These are great reasons why all Sponsored Brand Video ads should have on-screen text/subtitles.
Sponsored Brand Video ads are great for complex products.
Video ads are far better at telling stories compared to static image ads.
Creating a new ad campaign doesn't have to be challenging. If you are already advertising on Amazon, use your existing ads to help create new video ads.
Sponsored brand video ads often have cost-per-clicks (CPCs) as low as those of standard image ads. We predict this is due to the fact that Sponsored Brand video ads are still new and in relatively low demand. Therefore, brands should start taking advantage of these ads before the demand and cost of them rises.
The optimal length for video ads is between 15 to 30 seconds. Try to find a healthy balance between being concise and informative, while still being engaging.
Each Sponsored Brand video is different. Just because one 20-second video performs best, that doesn't mean that the other video ads should be 20 seconds long. Take time to analyze the performance of each ad
These ads display on both desktop and mobile devices, but they are most common on mobile.
The more these ads are A/B tested, the better they perform. Consider these test ideas:
Video length: 15 vs 20 seconds, 20 vs 25 seconds, 25 vs 15 seconds
Focus of video: Branding vs benefits, benefits vs features, lifestyle vs branding
Cost-Per-Click Bids: $1.00 vs $0.90, $1.00 vs $1.10, $1.10 vs $0.90
Keywords: long tail vs short tail, many keywords vs few keywords, branded keywords vs non-branded keywords
The most important KPIs to keep track of include:
Advertising Cost of Sales (ACoS): ACoS helps advertisers to understand how many advertising dollars they are spending on average to make a sale. This metric speaks to the profitability and efficiency of the campaign.
Cost per click (CPC): This is one of the main KPIs used by Amazon advertisers. Most ads on Amazon are on a cost-per-click basis, meaning advertisers are charged only when the ads are clicked.
Cost per 1000 Impressions (CPM): Upper-funnel awareness metrics, like impressions, are just as important as lower-funnel conversion metrics like sales. CPM can be used to measure how much you're paying to increase your brand's product awareness among shoppers.
How we can help
Staying ahead of the trend and understanding the latest advertising options is important for all brands and sellers. We specialize in setting up, maintaining, and optimizing Amazon advertising campaigns. Request a consultation today.