TikTok Shop is the latest feature to be added to the buzzy social app. As a new social commerce solution, TikTok Shop allows users to buy products linked in videos directly within the app — from awareness to purchase.
But many brands wonder: Is it worth selling on TikTok? Are there any challenges to be aware of? Is it easy to set up?
With its 1 billion users worldwide who spend an average of 95 minutes per day on the app, there's no reason for your brand not to be utilizing TikTok and TikTok Shop. Our team of experts at Blue Wheel have outlined everything you need to know about TikTok shop to determine if it's worth it for your brand.
What Is TikTok Shop?
TikTok Shop is a new commerce solution that allows users to shop in-app from their favorite brands. From live videos to influencer partnerships, TikTok Shop creates a frictionless checkout experience so you can easily connect people with your products.
Product discovery, product details, checkout, and post-payment activity are now powered and performed all within the TikTok app.
Why TikTok Shop?
As we mentioned previously, TikTok has over 1 billion users from around the world, and they're incredibly engaged on the platform. But they're not just engaged with traditional content—71% of TikTok users report that they pay attention to ads on the platform. Additionally, 92% of users take action after watching a TikTok.
The full shopping journey within the TikTok app allows users to browse, add to cart, check out, and share their product favorites in their own videos. It's truly a user-centered experience.
With all these data points, it's hard to find a reason not to sell on TikTok Shop. By integrating TikTok Shop into the rest of your organic social media strategy, you can drive meaningful sales on the platform.
How TikTok Shop Works
Browsing
TikTok Shop offers three immersive and native ways to encourage users to browse:
Product links in pre-recorded videos on the feed
Product showcase tab on your TikTok profile
Live shopping on TikTok Live videos
Note that product tags must be added when publishing and cannot be placed after videos are already live.
More recently, TikTok has just added a Shop tab to their navigation. Now, users can choose to view their Following feed, For You Page, or the Shop tab to browse products. The potential for a robust search-based marketplace here is exciting for the future of the platform.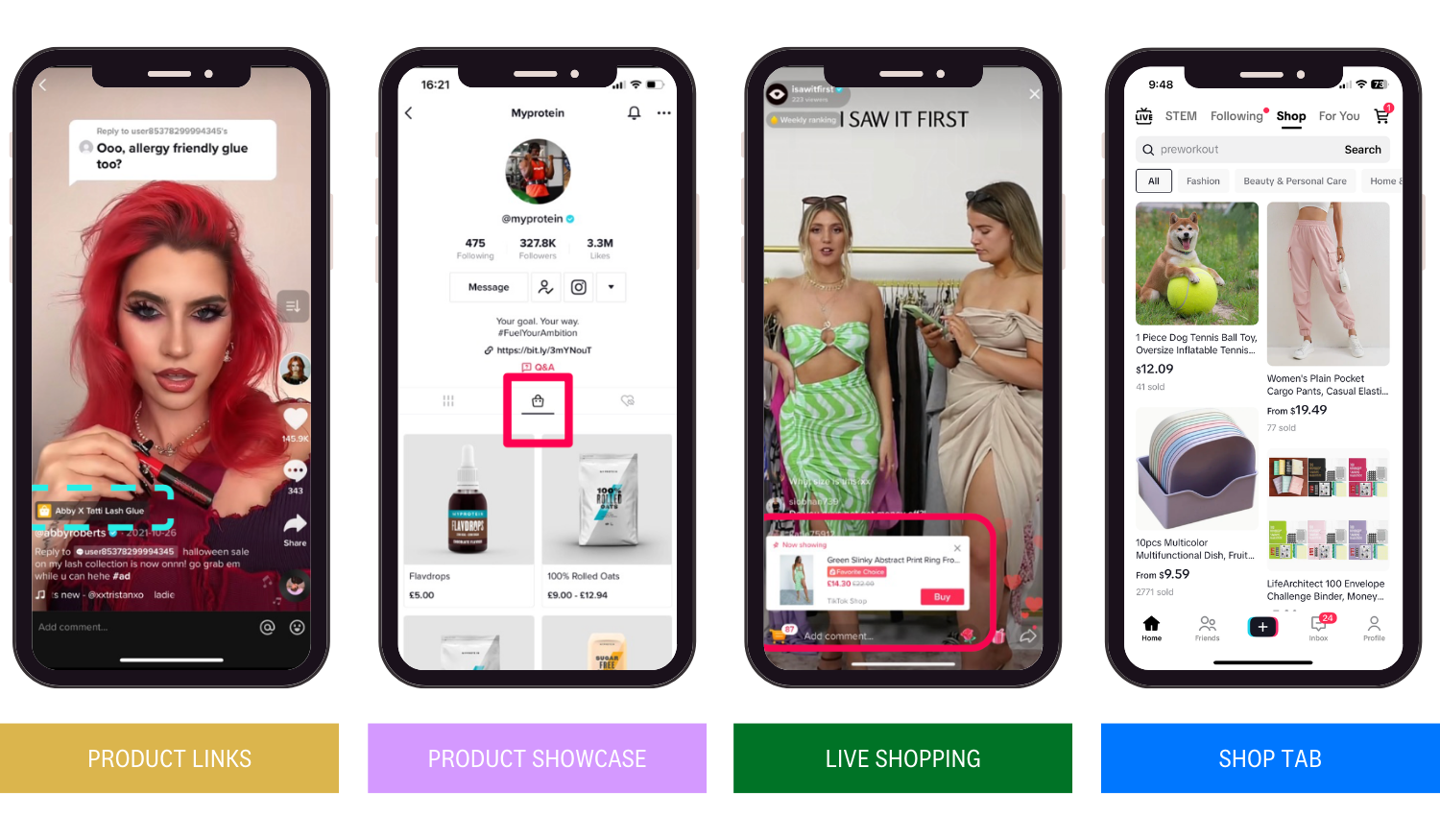 Purchasing
Purchasing products from TikTok Shop is an easy and seamless experience. It only takes three clicks to purchase from the point of seeing a video featuring the product a user is interested in.
In just three steps — all within TikTok — the user can complete their purchase:
Click product link in video to access product details page
Select size/color/etc.
Place order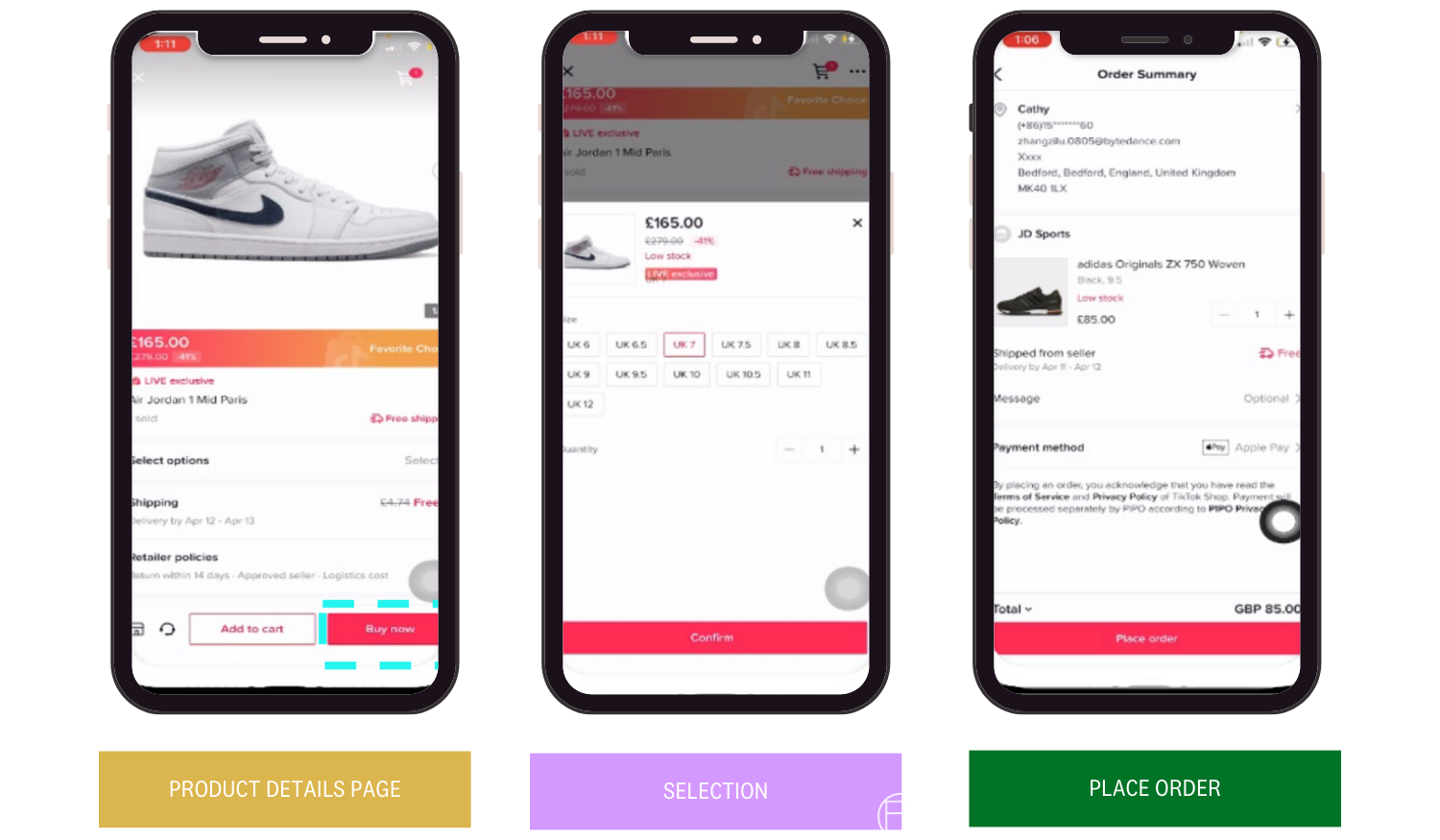 The Opportunity
The opportunity your brand has by using TikTok Shop is pretty incredible. If your brand is already on TikTok, you've likely had a hard time tracking the correlation between views and sales.
Before TikTok Shop, users would be taken out of the app to go through the purchase process — which meant brands couldn't accurately track the opportunity, and those consumers would often fall off because of a high-friction experience.
Now, brands can take social engagement and turn it into social commerce. You can accurately track sales from your organic posts, paid ads, and influencer partnerships to get a full picture of your success on the platform.
But perhaps the biggest opportunity we've seen for TikTok Shop is that this social commerce model has already proven itself in China. ByteDance (TikTok's parent company) reported GMV in China of $199.8 billion — an increase of 75%. If that's not proof of concept, we don't know what is!
The Benefits
The first and most notable benefit of TikTok Shop is the potential for increased conversion rates. Because of the seamless checkout process, it's easier than ever for users to find, view, and purchase products — all within TikTok.
This seamless customer journey gives brands access to more data than ever to see the attribution. You don't have to think about the halo effect — you can directly see how people engage with your brand and what they're purchasing.
Lastly, customer acquisition costs are notably lower for this commerce solution, mostly due to the possibility of an early adoption advantage. Getting in on this now means you'll see lower costs than other commerce platforms (like Instagram Shop), and you'll likely see the lowest cost on TikTok Shop itself before it explodes in popularity even more.
Just two years ago, we were seeing Cost Per Follower or CPA on TikTok at just about $0.09 a follower - whereas now, although still low, has increased nearly tenfold to about $0.40-$0.90. 
The Challenges
While we're bullish on TikTok Shop, there are certainly challenges that brands should consider before you dive head-first into the platform.
First, some businesses will encounter challenges with their logistics and fulfillment services. You need to ensure you have processes in place to account for the shipping of these orders. Going viral is great — until you sell out. So make sure you have enough inventory in place as well.
If your handle was registered internationally (outside of the US), you can't see the US TikTok Shop because your account is labeled as an international account. Some brands have had to work through this hurdle in order to sell on TikTok.
And, as with any new app or solution, there are always "teething" issues — problems that pop up because the commerce experience is still being refined by TikTok. You might encounter some glitches in the experience or back end, which can potentially cost time and money to sort out.
Getting Started on TikTok Shop
How to Create a TikTok Shop
To access TikTok Shop, you simply create a shop within the TikTok Seller center, submit the red business documents for verification, and connect your bank account. You can also onboard via the TikTok Marketing API.
Navigate the Workstation Portal
In TikTok's one-stop workstation portal, brands can track real-time performance, traffic, customer reviews, and transaction data — all within their Seller Center dashboard.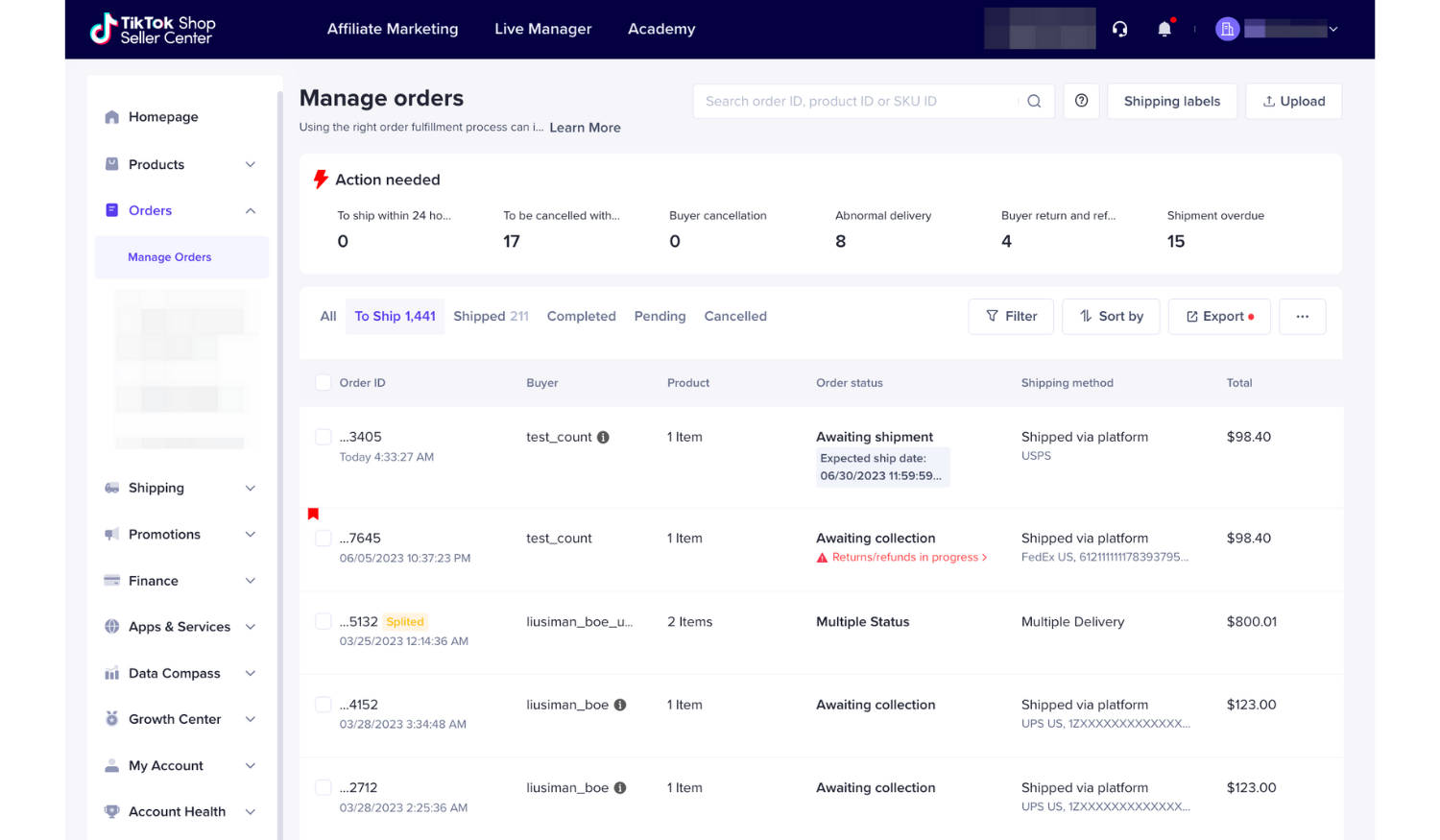 The web portal provides end-to-end solution, including:
Store operations management
Manage products
Orders
Shipping
Finance
Customer service and engagement
Seller growth and education
Performance analysis
Policy updates, etc.
In Seller Central, you can view detailed insights into a variety of data points, including:
Sales and traffic
Livestream
Video
Shop Tab
Order process and delivery
Creator and affiliate analysis
Product performance
Promotion performance
Shop ranking
Customer trends
Having access to this wide breadth of data is often new for brands, especially in regards to social commerce. Being able to analyze all of this data allows for you to really optimize that shopping experience and increase your sales and engagement across the board.
Shop with Partner Platform
In October 2023, TikTok released their Shopify integration for TikTok Shop. Now, brands who utilize Shopify can easily integrate their existing products into their TikTok Shop, including product descriptions, availability, and more.
Third party connectors are also available to connect your existing storefront to your TikTok Shop; however, these solutions tend to come at a cost.
Assess Fees
There are some fees associated with TikTok Shop. There's a 2.0% referral fee on customer payment plus $0.30 USD per order.
These fees are markedly lower than other commerce platforms. As a third-party seller ourselves, we often see at least a 15% referral fee, so getting in early on this low fee is an incredible opportunity.
This higher margin allows you to repurpose some of that margin into our advertising and content creation efforts. 
Is It Worth Selling on TikTok Shop?
Yes, it's worth selling on TikTok Shop. With historically low referral fees, low cost-per-acquisition, and an engaged audience of 1 billion people, there's really no reason for your brand not to be selling on TikTok.
As with any new platform, you might encounter some hurdles, but we believe the benefits far outweigh the potential challenges. Getting in early on this commerce solution is key to seeing growth.
‍

Blue Wheel is an official TikTok Shop partner.
‍
Need help navigating the world of TikTok Shop? Blue Wheel's social team can help. Reach out today!