Most of us have heard of Amazon's Brand Registry program, but there tends to be a lot of confusion around the scope and the best uses for the program.
There are a lot of added benefits to be registered with Amazon's Brand Registry, along with several assumptions, so let's dive into this program and understand it in full detail.
To learn more about Brand Registry and its best uses around protecting your brand, watch our webinar on this topic.
What is Brand Registry?
Brand Registry is one of four tools offered by Amazon Brand Services, which also encompasses Transparency, Project Zero, and Counterfeit Crimes Unit.
The Brand Registry program allows registered brands access to enhanced marketing and advertising features, catalog authority, submit tickets related to IP infringement, and patent violations to ensure additional control over your specific brand.
Ultimately, the program attempts to protect a registered brand (and trademark) selling on Amazon. In order to be accepted into Brand Registry, you must have a trademark and that trademark must be on your product.
In 2021 alone, Brand Services has denied 2.5 million Seller Central access attempts, grown to 700,000 users in its portal, removed or blocked 4 billion suspicious listings from the site, and identified and removed 3 million counterfeit products at various stages in the supply chain.
Maintaining catalog control with Brand Registry
For most brands who do not have IP or counterfeit problems, the biggest reason to use Brand Registry is for more control over their catalog. However, even after signing up for Brand Registry, many brands still see changes to their content – so what's the deal?
The good news for registered brands is that they have the most content authority, but other seller content contributions are also considered and can still have some influence over your catalog content.
If you're continuing to see issues, we recommend following the process below, in order:
Ensure Brand Registry is linked properly to your Seller or Vendor Central
Start with flat feed files via Seller or Vendor Central
If what is being pushed in the backend is not coming up in the front end, open up support tickets with Seller or Vendor support
Finally, if those first three steps are not effective, submit a support ticket with the Brand Registry team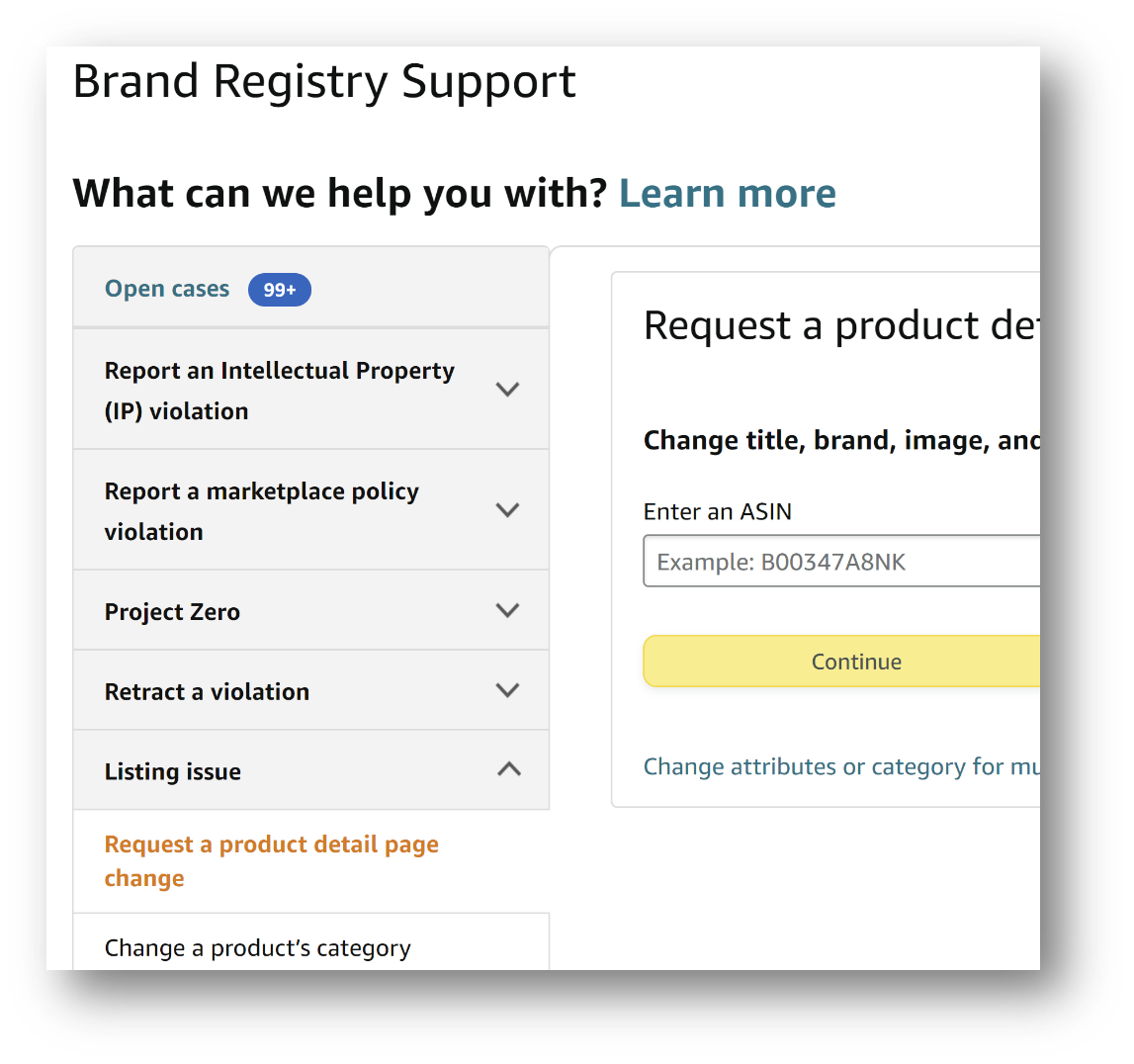 How you can leverage Brand Registry for brand protection efforts
The use of Brand Registry varies in success when looking at overall brand protection efforts. Generally, the most effective claims to submit are going to be the legitimate counterfeit claims, as Amazon wants to ensure as much product legitimacy on the marketplace as possible.
Similarly, copyright claims can also be quite successful when submitting claims. However, copyright claims can be a bit more convoluted – if you authorize anyone to use your images or content on Amazon or their affiliates, then that is not a legitimate copyright claim so it can be rather difficult for brands to make that authentic copyright claim.
If you're submitting for a clear-cut trademark violation, for example, when your trademark is being used on a product that is not yours, that is a valid and authorized claim that should have a good success rate of being pulled down.
The Brand Registry program is going to be less successful is when submitting claims for unauthorized sellers, or sellers who are selling your products without your consent. Unfortunately this is a common misconception when brands sign up for Brand Registry. This is an area of Brand Registry that is highly unsuccessful.

To optimize our results when submitting claims, follow these tips:
Ensure all claims are legitimate, supported & worthwhile
Avoid submitting questionable or unverified claims
Stay within the guiderails of Amazon's expressed enforcement scheme
Be creative but accurate in your claim
How to limit your reliance on Brand Registry
There are four main necessities in relation to brand control that are not covered by Brand Registry and should always be considered to protect your brand.
Establish a proper legal foundation – lay your foundation by implementing a reseller program so you have the legal backing to control your brand on the marketplace.
Visibility on & beyond Amazon – the ability to see who is selling, where they are selling, and at what price they're selling your product is crucial in maintaining brand control.
Implement a manageable enforcement solution – automating your enforcement when possible and setting personnel to address disruptors will help you reach your brand protection goals.
Brand Registry is a great tool to use, but when it comes to overall brand protection efforts, it's always important to consider a proper legal foundation and ensuring your brand is properly represented across the marketplace and online. If you'd like to learn more about how Retail Bloom partners with brands to help them protect their presence online, connect with our team of Amazon experts and schedule a consultation today. 
Feel free to reach out to us with questions, or subscribe to our blog so you don't miss a thing.