Most brands are looking for an omni-channel agency — they just don't know it yet! If you're looking to grow your online retail presence, you need an omni-channel agency. If you want to increase sales across Amazon without cannibalizing your DTC sales, you need an omni-channel agency. If you need to streamline your back-end processes, including inventory and fulfillment, customer service, and analytics, you need an omni-channel agency.
Let's dive in and learn what exactly is an omni-channel agency, if working with one is right for you, and how it can help you grow your digital commerce sales.
What is an Omni-Channel Agency?
We here at Blue Wheel define ourselves as an omni-channel agency. If that term is unfamiliar to you, here's how we define it. An omni-channel agency is a partner who  manages the entire customer experience, from awareness to customer retention. Everything is seamlessly integrated through one partner, from your email marketing to inventory planning - or how we like to define it - from click to ship.
Benefits of Working With an Omni-Channel Partner
There are several benefits when working with an omni-channel agency. We have found that many business functions are quite often siloed, impacting overall strategy. An omni-channel partner is able to connect front-end channels with back-end functions to grow & scale. 
Better data & insights: superior insights across platforms allows brands to better understand their customers and serve them with a more personalized experience. 
Improved customer experience: a great customer experience leads to a better brand authority, which in turn leads to increased customer affinity and loyalty.
Increased ROI: a more integrated business that is less siloed across departments, along with a more personalized customer journey, will lead to more engagement, conversions, and ultimately - increased sales.
Our Approach to Digital Commerce
We believe in an omni-channel retailing experience that prioritizes the customer, from first click to opening the package. We also believe that data should inform every step of the process, so every decision is one backed up by data-driven proof.
To encompass our philosophy, we created The Performance Commerce Effect — our step-by-step strategy that guides how we approach each step of the customer journey and the data that informs each stage.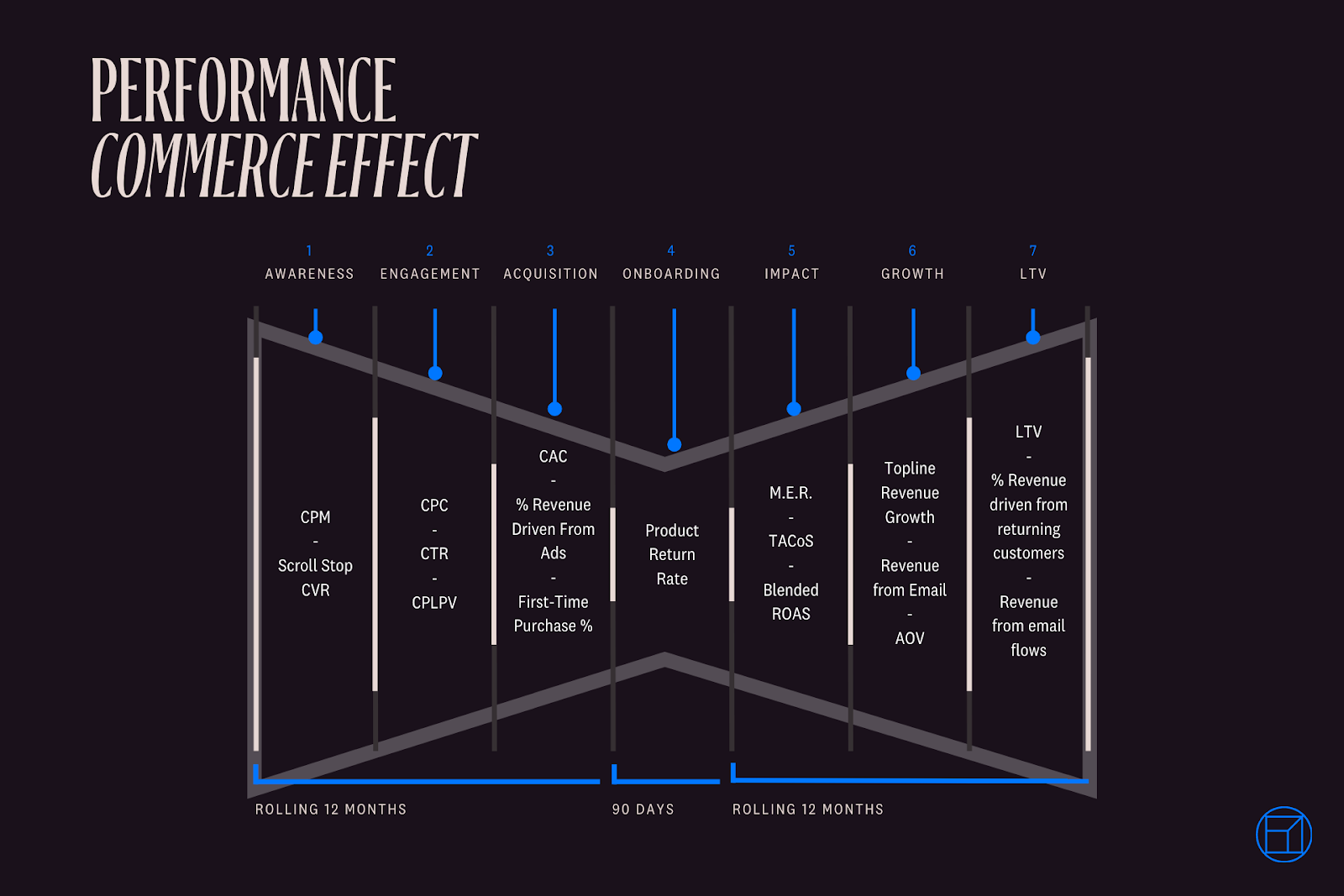 ‍
Growth begins from the first touchpoint in the awareness phase, hopefully culminating in a repeat customer who has a high lifetime value. At each stage of the process, we evaluate different data points that correspond to each stage, allowing us to pivot where necessary and invest more where we've seen success.
Because we handle every stage of the process, we're able to better understand where we can make improvements in each area to potentially improve other areas of the process. For example, a high return rate could indicate a faulty product, but it could also indicate an ad that unintentionally misled the customer as to what to expect.
How We're Different from Other Agencies
Here at Blue Wheel, we saw a gap in the existing agency space. There were creative agencies, paid social agencies, Amazon advertising agencies, and full-service marketplace agencies — but there were no agencies handling every step of the omni-channel retail experience.
When we merged with Retail Bloom in early 2023, we sought to fill that gap. Blue Wheel CEO Eitan Reshef said of the merger, "We believe it is entirely unique to offer everything from eCommerce advertising to fulfillment to creative to customer service. Now, if a brand wants to succeed from 'click to ship,' they have the opportunity to consolidate strategy and execution under one primary partner… Blue Wheel." We now manage over $1B in eCommerce revenue for our clients.
Maximizing Digital Commerce Sales
We've helped brands like Grande Cosmetics achieve extraordinary results across both DTC and Amazon, increasing digital commerce revenue and providing a seamless customer experience.
We do this without forsaking one sales funnel, putting all your advertising budget into one platform, or ignoring your existing customer base. Because we help you manage the entire process, the customer feels confident enough to make a purchase.
‍
If you want to work with the top omni-channel agency, reach out to Blue Wheel today.
‍