As consumers increased the amount of time spent on their couches shopping, reviews have became an even more important component to customer purchasing decisions. 
We know positive reviews can be incredibly valuable to sellers, so we wanted to outline the most effective ways we found to receive valid product reviews on Amazon without violating Amazon's terms of service.
Amazon's Product Review Policy


Before we get into the tools for review generation, let's review the Amazon Product Reviews policy.
Sellers cannot ask for positive reviews
Sellers cannot use wording suggesting contacting seller support team before the customer writes a review/submit a rating (review manipulation-whether in the form of a handout, or customer emails through buyer/seller messaging).
What is Considered Review Manipulation
Because Amazon is customer-centric and therefore creates its policies around the customer experience, they created an anti-manipulation policy to prevent false reviews. If Amazon considers a seller's actions as a policy violation, they can immediately withdraw selling privileges and withhold funds, remove all product reviews and prevent future reviews, delist the product permanently, and in extreme cases, take legal action against the seller and disclose seller's name and other information publicly.
Sending free or discounted products to family, friends, or employees to write positive reviews and/or ratings on product detail pages is considered manipulation
Asking for positive reviews and/or ratings is prohibited
Offering refunds, discounts, free products, or gift cards in exchange for reviews is against Amazon's policy
Seller Feedback vs. Reviews
There can be some confusion around the difference between seller feedback and reviews. Seller feedback is the customer's direct experience with the seller of the product than the experience with the product itself.
Seller Feedback can be found under Performance > Feedback. Amazon provides a breakdown of Seller performance on this page for the past 30, 60, and 90 days, plus the seller's lifetime score. To monitor seller feedback, it allows filtering by Positive, Neutral, and Negative reviews. Sellers can respond by posting a public reply, or request removal of a negative review directly on the page.
Sellers can request removal of a negative review for the following reasons:
The feedback includes obscene language
The feedback includes seller-specific personally identifiable information
The entire feedback comment is a product review
Strike through feedback if it is regarding fulfillment or customer service for an order fulfilled by Amazon
On the seller feedback page, you can click See how your feedback displays to buyers on Amazon, which takes you to your Seller feedback front-end of Amazon.com.
Receiving Genuine Reviews While Staying Compliant
There are several great ways to get legitimate feedback from customers:
1. Use "Request a Review" Feature
2. Third Party Software
3. Amazon Vine Program
Let's dive a little deeper into each of these options. 
Request a Review Feature
Amazon released this tool to sellers as a button on order pages. As a seller, you can simply click the button, and the buyer is sent an email requesting a star rating for both the product and the seller. This is recommended over email or buyer-seller messaging for both product reviews and seller feedback.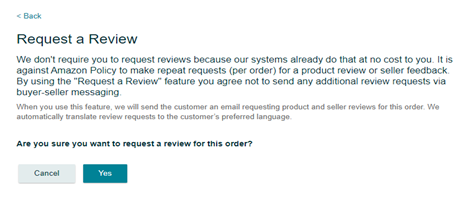 The buyer receives an email similar to the one below: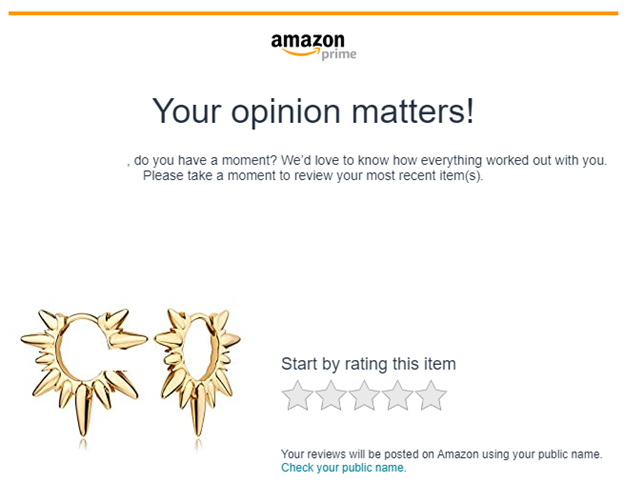 Amazon Vine
Participation in Amazon's Vine program allows sellers to enroll enrolling ASINs that you'd like to get more reviews on. It allows you to send free product in exchange for honest product reviews – while staying compliant with Amazon's policies.
Note: Amazon Vine enrollments created on or after October 12, 2021 are subject to $200 enrollment fee per Parent ASIN.
Requirements of Amazon Vine include:
Be brand registered in Amazon Brand Registry
Have fewer than 30 reviews on the product detail page
Have a buyable FBA offer in 'New' condition
Not be an adult product
Have already launched at the time of enrollment
Have available inventory
Have an image and a description
Vine Voices (as these reviewers are referred to) are notoriously honest reviewers, so it's critical that Sellers are confident in their products and the customer response to their product.
Third-Party Software
Using third-party software tools like Feedbackwhiz allows users to send out automated emails to customers based on the product. These tools allow customization of length of time in between receiving a product and requesting a review based on product type.
Although there are some great tools, you do want to always ensure that your software of choice complies with Amazon's Review Policy and Community Guidelines.
Utilizing these Amazon-approved strategies can provide sellers the opportunity to gather legitimate reviews to help increase conversation rates, optimize sales on Amazon and ultimately reduce your overall ad costs. Schedule a consultation with our team if you're interested in learning more about how we can help you achieve your marketplace goals.
Feel free to reach out to us with questions, or subscribe to our blog to see similar topics.