Amazon has recently announced the official deadlines for inventory to arrive at Fulfillment Centers for the 2022 Holiday season and with with the peak holiday season comes increased fees starting October 15, 2022. 
These dates act as the last day that inventory can hit Amazon's Fulfillment Centers and guarantee receipt in time for the peak holiday selling periods. These dates are:
Black Friday/Cyber Monday: November 2
Christmas: December 1
Keep in mind that these dates are only estimates, so we recommend that FBA Sellers send their inventory early and ensure it arrives at least a week in advance, to provide time for the inventory to be received, processed and available for purchase.
We wish you the best as you prepare for the Holiday season! Please reach out to us if you have any questions or are interested in learning more about what Retail Bloom does.
Increased Fees Start October 15
We're quickly approaching the busy season of E-commerce and retail in general. If you rely on 3rd party services for fulfillment or shipment, you can expect to pay a greater fee during the holidays as sales ramp up across the nation.
Amazon announced The FBA Holiday Peak Fulfillment Fee will be in effect starting October 15, 2022, until January 14, 2023. Read on to learn about what this means for sellers, how to figure out the impact for your business, and what we can expect going forward.
What is the Peak Holiday FBA fee?
The Peak Holiday Fulfillment Fee is an additional fee that Amazon charges during the busy season. It applies to FBA Sellers and will be in addition to all other fulfillment fees for the holiday season time period. Most 3rd Party Fulfillment Services and Shipment Carriers implement an additional fee during this period. Amazon says that the Peak Holiday Fulfillment fee is in line with what other carriers are charging and that it's still less expensive to sell through them compared to other similar services. 
How can Sellers determine the impact?
To determine the impact, sellers must break their products down by size tier & weight. Depending on these factors, the fees you receive will vary greatly (read Amazon's Help Page to determine the full impact on your business).
If you are a Seller, we recommend you get very granular in your analysis to ensure you know what to expect. The fee chart for the Holiday Peak Season can be seen below: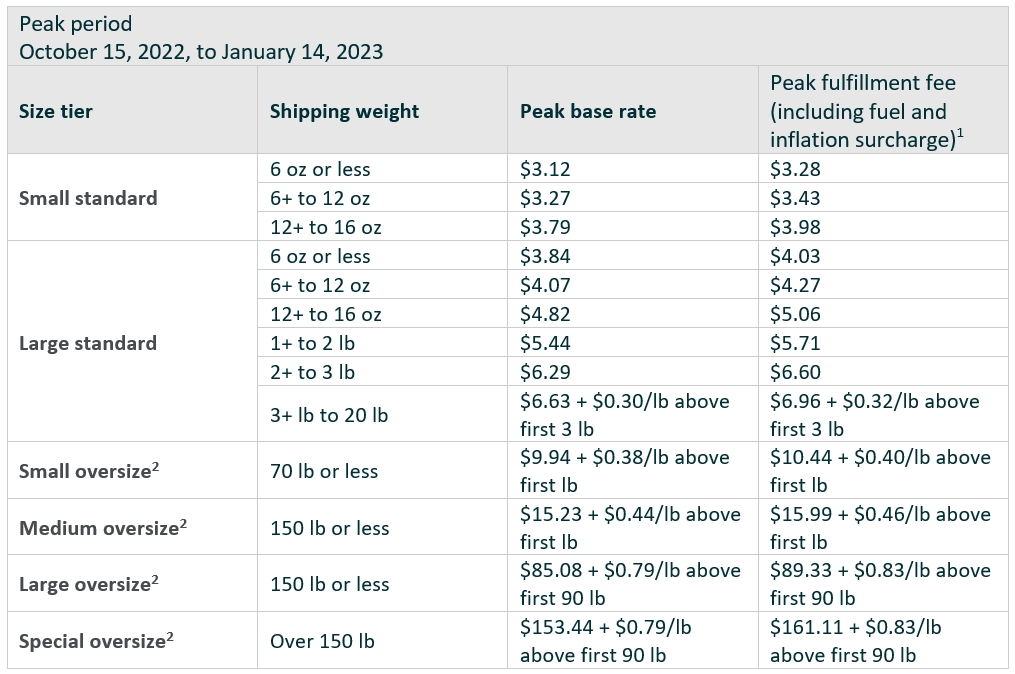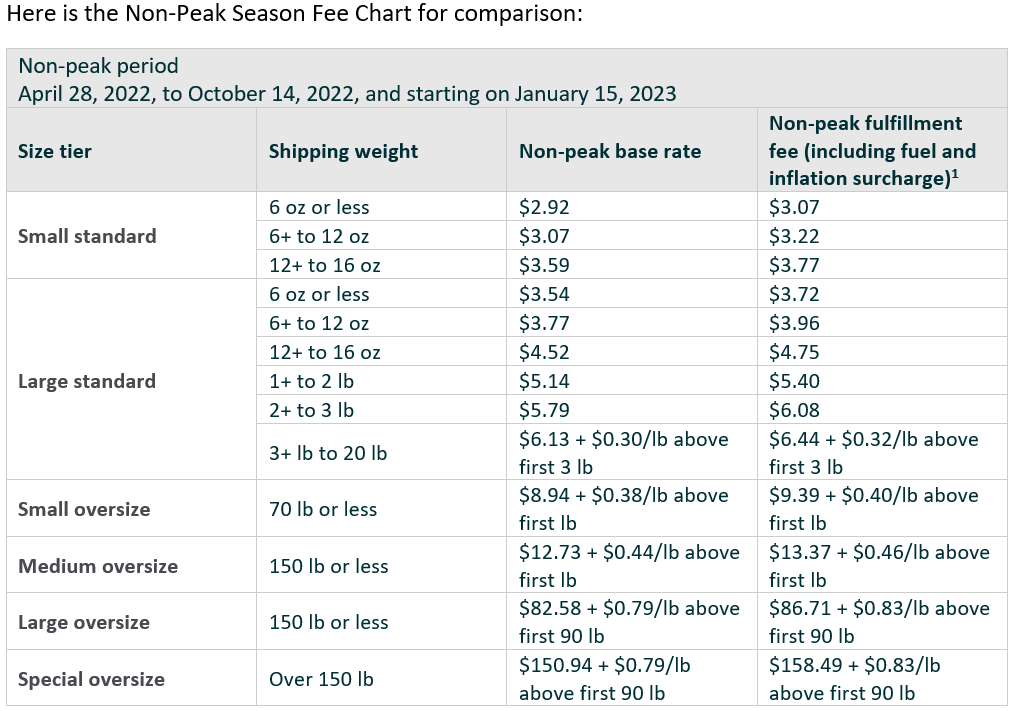 Although the fees seem small, they add up, and will make an impact on your bottom line. If you need help analyzing the impact this has on your business, our team of experts at Retail Bloom can help! Contact us at [email protected] if you're interested in partnering with us, or if you're an existing client, please reach out to your Account Team to assist.
For more updates on marketplaces, visit our full Marketplace Updates content gallery.